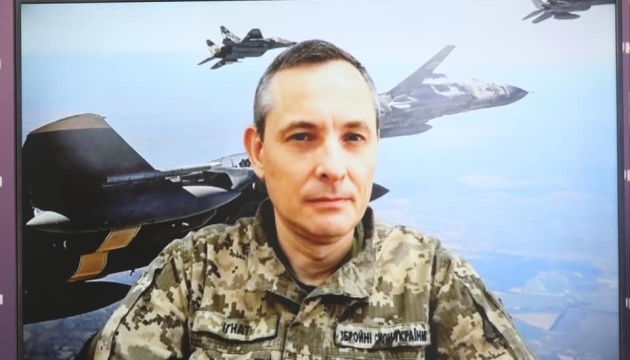 Russian air force's maneuvers in Belarus "psychological" factor, carrying no urgent threat - Ihnat
The air raid alerts that went off on Tuesday were related precisely to the enemy warplane activity over the Belarusian territory, which is rather a psychological factor.
That's according to Colonel Yuriy Ihnat, the spokesperson for the Ukrainian Air Force Command, who spoke at a briefing at the Military Media Center.
"The Russian military aviation group is located in Belarus with the aim of creating a joint army that will operate under a unified command. Their maneuvers must be born in mind. In particular, yesterday's air raid alerts were related precisely to the activity of enemy aviation over the territory of Belarus," the spokesman said.
In his opinion, "this is a psychological factor but this group poses no particular threat in this direction."
He also briefly noted that air defense capabilities provided by partners play an important role in shooting down Shahed drones and cruise missiles. "In the list of the latest Ramstein package there are significant changes and a big step forward. This is about the provision of Patriot, NASAMS, and IRIS-T batteries."
"I hope that what was announced by our partners will be put into service as soon as possible and mastered by our troops," Ihnat said. According to the spokesperson, the provision of Western-made aircraft would also be a very important step.
"For example, F-16 fighter jets… Such an aircraft would suit us best in the current conditions. Such aircraft could become both part of the air defense system and a force for strikes against the enemy with the aim of liberating our territories," Ihnat said.
As Ukrinform reported earlier, the head of the EU Delegation to Ukraine, Matti Maasikas, called the latest massive missile attack on Ukrainian cities a predictable reaction on the part of Russia to yesterday's decisions of Ukrainian partners regarding the supply of main battle tanks.