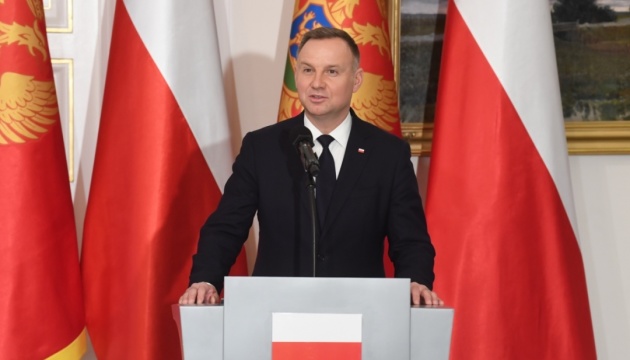 Duda: Poland already handed Ukraine 260 T-72 tanks
Warsaw has already handed over to Kyiv 260 T-72 tanks of various modifications.
Polish President Andrzej Duda said this during the discussion panel "Defending Europe" within the World Economic Forum (WEF) in Davos on Tuesday, an Ukrinform correspondent reports.
"There are two reasons: firstly, Germany is part of NATO and if several allies express their readiness to hand over their tanks to Ukraine, then this is an important moment. Secondly, the pressure of the German political scene and public opinion is growing, so I hope that all these elements will lead to this very important decision", Duda said.
He emphasized that military aid to Kyiv is a key element in resolving the difficult situation in eastern Ukraine.
"If we continue to send a large number of state-of-the-art weapons to Ukraine defenders, the Ukrainians will have the potential to stop Russia," the Polish president emphasized.
He recalled that a few days ago he announced Warsaw's decision to transfer a company of Leopard 2 tanks to Ukraine, "about 14 tanks."
"But we are trying to rally more support for Ukraine. Therefore, we hope that several allies will appear who will transfer Leopard 2 and Challenger tanks from Great Britain to Ukraine," President Duda emphasized.
He expressed hope that the manufacturer of German tanks will also participate in the implementation of the project to provide military aid to Ukraine.
The head of the Polish state noted that Warsaw provides significant military assistance to Ukraine. According to him, more than $2 billion worth of this military aid has already been provided to Kyiv, which is huge money for Poland. He said that in the initial phase of the war, Poland handed over to Ukraine all its Piorun portable anti-aircraft missile systems, which the Polish army had at the time. In addition, Warsaw transferred to Ukraine a significant number of Krab self-propelled artillery installations and more than 260 T-72 tanks of various modifications. He stated that the decision on the transfer of tanks was made immediately, in March last year, because at the outset of the war Ukraine needed them a lot. It was a very difficult process for Poland, since these tanks were not in warehouses, but in service with the Polish army.
As reported by Ukrinform, Poland recently agreed to transfer a company of Leopard 2 tanks to Ukraine. German consent is required for their handover to Ukraine.