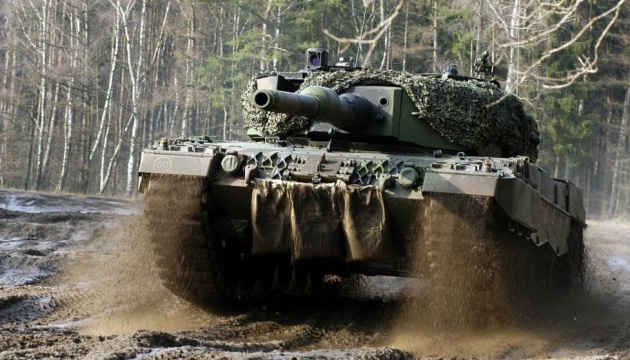 Rheinmetall to be able to send Leopard tanks to Ukraine no earlier than 2024
German industry can prepare Leopard tanks for shipment to Ukraine, given the German government passes such a decision, no earlier than next year.
That's according to Armin Papperger, Rheinmetall CEO, who spoke with Bild, as seen by Ukrinform.
"Even if the decision that we can send our Leopard tanks to Kyiv is made tomorrow, the delivery will continue until early next year," said Papperger.
According to the top manager, the repaired Leopard main battle tanks must first be upgraded for combat action before they can be delivered to Ukraine. Repairs will last almost a year as the equipment is not only repainted but also needs to be converted for use in the war. The tanks get completely dismantled and then reassembled, the concern chief explained.
Currently, Rheinmetall has in its warehouses 22 decommissioned Leopard 2 tanks and 88 vehicles of the previous Leopard-1 model. Without a relevant order, the company cannot start repairing the tanks as the operation costs several hundred million euros. "Rheinmetall cannot pre-finance this," Papperger noted.
He admitted that the tanks produced by the company could play a decisive role in the war in Ukraine. "Leopard main battle tank is extremely important for offensive operations and regaining territory... With these main battle tanks, the army can break through enemy lines and put an end to protracted trench warfare," the head of the concern noted.
At the same time, he said that Rheinmetall is ready to deliver the promised 40 Marder IFVs, but only if Greece agrees to wait and if the government asks for it, which has not been the case. 20 IFVs are ready at the company's sites – the first tranche of those to be transferred to Greece as replacement for the military equipment it previously transferred to Ukraine, while the rest will be ready in April. In total, 140 IFVs are stored in the warehouses, while their repair and preparation for combat takes seven to eight months.
The website of the German government states that the IFVs will be supplied both from the stocks of industry and the Bundeswehr. Berlin assured that the equipment will be delivered in the first quarter of 2023.
Rheinmetall also started the production of ammunition for Gepard self-propelled guns supplied to Ukraine.
"In June-July, we will complete the production of the first batch of ammunition. By the middle of next year, we will deliver 300,000 ammunition pieces to Ukraine," said the CEO. He hopes that this number will meet the needs of the Armed Forces of Ukraine, and that the issue with ammunition for self-propelled guns will be resolved.
In Germany, a heated debate is ongoing about the possible supply of Leopard main battle tanks to Ukraine. The chancellor, who is still quite reserved about it, has the last word.
Photo: Bild