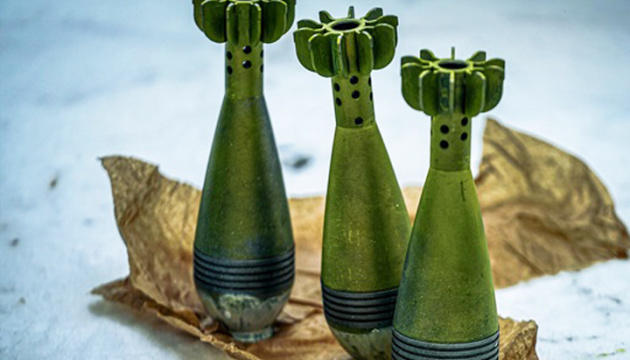 Tens of thousands of new Ukrainian-made mines delivered to front line - Ukroboronprom
The first batches of 82mm fragmentation mines, the production of which Ukroboronprom was launched at the facilities of foreign partners, have already been delivered to the front line.
Nataliia Sad, the spokesperson for Ukraine's state defense conglomerate Ukroboronprom, said this at a briefing at the Ukraine – Ukrinform Media Center.
According to her, for the first time in the 31 years of its independence, Ukraine has established the production of its own 82mm fragmentation mines. In order to secure the production cycle and labor teams, production was launched at the capacities of partner countries.
The main feature of the Soviet-standard mine improved by Ukrainian specialists is a greater number of deadly fragments upon explosion, she said.
"We managed to increase the number of fragments by 2-2.5 times. During tests on a shield target at a distance of five meters from the epicenter of the explosion, we counted almost 460 fragments, while the regular Soviet mine has 198 fragments. At a distance of 10–15 meters, the number of affected elements was also many times greater. Therefore, the Ukrainian mine, which is designed to destroy enemy personnel at a distance of 4,500 meters, will be more effective," Sad said.
According to her, although the establishment of production was announced recently, in fact, it happened a little earlier and tens of thousands of new mines have already been shipped to Ukrainian defenders. They have proven themselves well in combat conditions.
"Now we are talking about increasing production in order to fully cover the needs of our Armed Forces in this type of ammunition," Sad said.
According to her, new shells of Soviet 122mm and 152mm calibers, which are already produced in Ukraine, as well as with the involvement of the capacities of NATO member countries, have proven themselves well at the front. The volume of their production is also increasing. After all, the need for such ammunition is growing every day. The task is to provide the lion's share of the Ukrainian Defense Forces' needs for such scarce projectiles at the expense of own production.