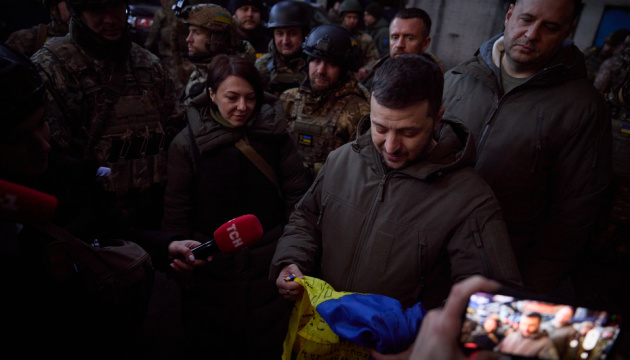 Bakhmut defenders give Zelensky flag for U.S. Congress
Ukrainian service members gave President Volodymyr Zelensky a blue-yellow flag with their signatures to be handed over to the U.S. Congress. The President said that it would be a hint about Ukraine's need for increased support from American partners.
This is stated in the video on the results of the visit to Donetsk region, provided to the mass media by the press service of the President's Office, Ukrinform reports.
"[Defenders] handed over our flag with their signatures. We have a difficult situation, the enemy is increasing its numbers. Our guys are more courageous and we need reinforced weapons. We will convey the words of gratitude from the guys to the Congress, the U.S. President for their support. But it's not enough. This is a hint: it's not enough," Zelensky said.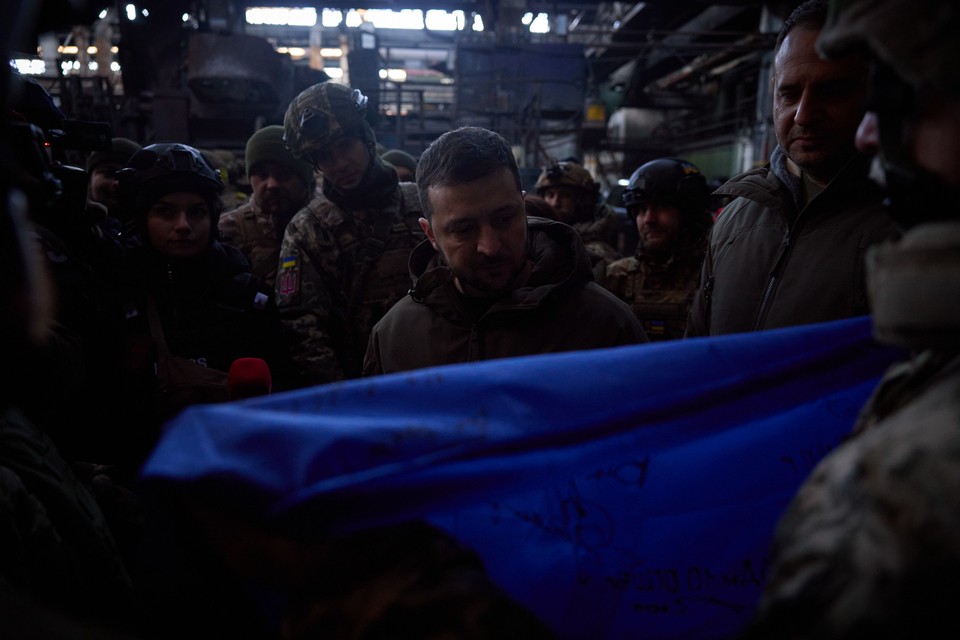 The President also noted that he visited frontline positions in Donetsk region because Ukrainian soldiers protect our lives, give their lives for it, "and we sometimes have to risk our own to support them."
The Head of State thanked the defenders of Bakhmut for their resilience and strength, stressing that they defend not only the east of Ukraine but the entire country.
"You and I see what remains after them [the Russians]: nothing alive. Therefore, I want to tell you: here, in Donbas, you protect all of Ukraine! Because after Donbas, they [the Russians] will do the same in other towns of our country as well, because they don't want anything Ukrainian. I'm sure of it. That's why you defend not Donbas but all of Ukraine," Zelensky said.
The President presented awards to service members and honored the memory of the fallen defenders.
The President was talking to soldiers to the sounds of explosions.
Photo: President's Office
ol