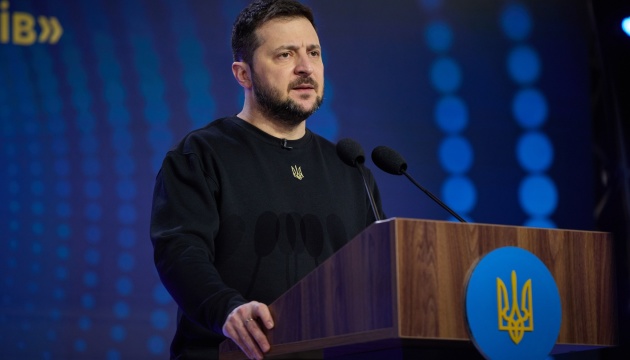 Over 60% of missiles fired by Russia at Ukraine hit civilian targets - Zelensky
Of the total number of missiles fired by the Russian army on Ukraine since February 24, 62% were hit civilian targets.
Ukrainian President Volodymyr Zelensky said this at the international conference "Human Rights in Dark Hours," dedicated to the 74th anniversary of the adoption and proclamation of the Universal Declaration of Human Rights by the UN General Assembly, according to an Ukrinform correspondent.
The head of state said Russian crimes in Ukraine and against Ukrainians are unprecedented since the Second World War.
"Ukrainian cities and our towns, our villages, which the Russian artillery simply breaks into stones, not one, not two, but dozens of such destroyed towns and villages. Air terror, missile terror, attacks by the Russian Federation, which are so reminiscent of the Nazi bombardment of Britain - London. Of all the missiles fired by the Russian army since February 24, 62% targeted civilian objects. They targeted people. They targeted humanity," Zelensky said.
He also talked about the filtration camps created by the Russians in Ukraine, discovered torture camps and mass burial sites. He also mentioned the forced deportation of Ukrainians by the Russians.
"More than two million people were deported. Illegal adoption into Russian families of our Ukrainian children who were actually kidnapped, they were kidnapped from Ukraine. Criminal mobilization of Ukrainian citizens in the occupied territory into the occupation army. All these are real examples," Zelensky said.
He also mentioned mine terror against Ukrainians, constant shelling, casualties in the regions bordering Russia and in the frontline areas.
"This is such a terrible volume of committed crimes and destroyed people's destinies and lives. All this is true, it is a tragedy of such a scale," Zelensky added.