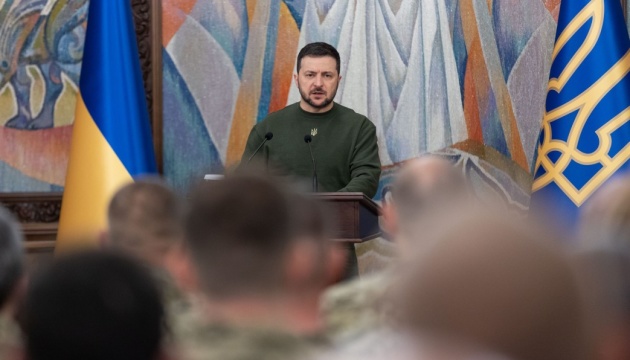 Zelensky presents state awards to Ukrainian defenders released from Russian captivity
President of Ukraine Volodymyr Zelensky has met with the Ukrainian defenders, who were released from Russian captivity, and presented state awards to them.
The relevant statement was made by the Office of the President of Ukraine, an Ukrinform correspondent reports.
"Today, we honor those who represent Ukrainian resilience, who are the face of our great state," Zelensky said.
Addressing the Ukrainian military – officers, sergeants, soldiers and sailors, – the Head of State noted that he was happy to see them free. A total of 1,331 Ukrainians have been released from Russian captivity since the full-scale invasion started.
"Military and civilians. Soldiers of our army, navy, national guardsmen, policemen, border guards, security forces. Doctors, rescuers, our volunteers. People from all regions. People who went through battles in the north, in the east, in the south, on Snake Island. Mariupol and Azovstal. Defense of Kyiv and Kharkiv. Defense of Kherson region, defense of our Zaporizhzhia. These are people of different ranks, with different personal stories, but whom we were all waiting for at home. For whom we fought! We fought equally for each and every one. Who went through captivity but kept their dignity," the President of Ukraine said, adding that their feat should be remembered by all Ukrainians.
Zelensky also praised those who had been working tirelessly to release Ukrainians from captivity. In his words, this is a very difficult job that requires a lot of effort.
At the same time, Ukraine remembers those who are still remaining in Russian torture chambers, and will work to bring them home.
"1,331 are already free. But we must return all our heroes who were captured by the enemy, all those who were deported, who were subjected to repression and who are kept in various 'isolations' in Russia and in the temporarily occupied settlements of our state," Zelensky told.
The President of Ukraine emphasized the importance of spreading the stories of Ukrainians who had survived Russian captivity, as well as those detained by the Russian Federation. In his opinion, it is important to tell society about their resilience, heroism and adamancy.
"As long as fighting continues, as long as our heroes are dying in the trenches, and as long as there the enemy has at least one prisoner, this war is not over for me and, I am sure, for each and every one of you," Zelensky stressed.
Those present observed a moment of silence in memory of the soldiers who died for Ukraine and remained forever in the history of Ukraine.
Photo, video: Office of the President of Ukraine
mk