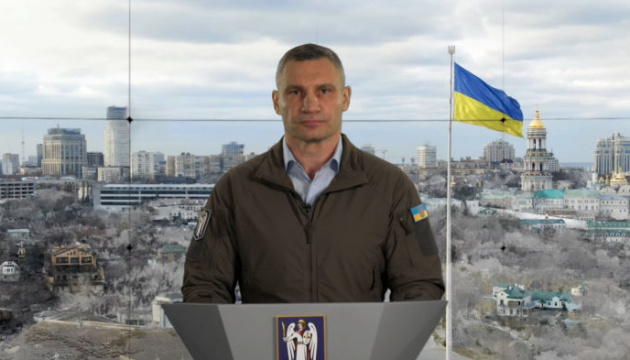 More than 150 people killed in Kyiv since beginning of war
In Kyiv, more than 150 civilians, including four children, have been killed and 678 objects have been damaged or destroyed as a result of Russian bomb and missile strikes.
Kyiv Mayor Vitaliy Klitschko said at the opening of the Kyiv Investment Forum, which is taking place today in Brussels, Ukrinform reports with reference to the Kyiv City State Administration.
Brussels Mayor Philippe Klose suggested organizing a forum and gathering potential investors who want to help Kyiv and Ukraine.
"Unfortunately, I cannot be with you personally today. The situation in Kyiv and Ukraine, the challenges that need to be quickly overcome, require my presence in Kyiv. For the first time, the forum is taking place outside Kyiv. And it is symbolic that the first foreign Kyiv investment forum is held in Brussels, in the heart of Europe because the people of Kyiv and all Ukrainians see their future in the European family," Klitschko noted.
Kyiv Mayor thanked the Brussels Mayor, the Chamber of Commerce, and the Union of Brussels Entrepreneurs for the proposal to hold an investment forum in the capital of Belgium, as well as for assistance in its organization.
Today Ukrainians defend their European choice in a bloody war with the Russian aggressor, who came to Ukrainian soil, and also protect European values, peace and stability on the entire European continent, Klitschko stressed.
"Ukraine has been fighting and winning for more than nine months. Despite the numerical and military superiority of the enemy. Despite the total terror which Russia unleashed against Ukrainian civilians," Kyiv Mayor said.
In particular, 678 objects have been damaged or destroyed in Kyiv alone as a result of bomb and rocket attacks. The objects include more than 350 residential buildings, 77 educational institutions, 80 housing and utilities objects, 25 transport infrastructure objects, and 26 healthcare facilities.
Since the beginning of the large-scale war, more than 150 civilians, including four children, have been killed in the capital.
As reported, Russia launched another massive missile attack on Ukraine on November 23. Energy infrastructure facilities were damaged, emergency shutdowns were activated in all regions.
ol