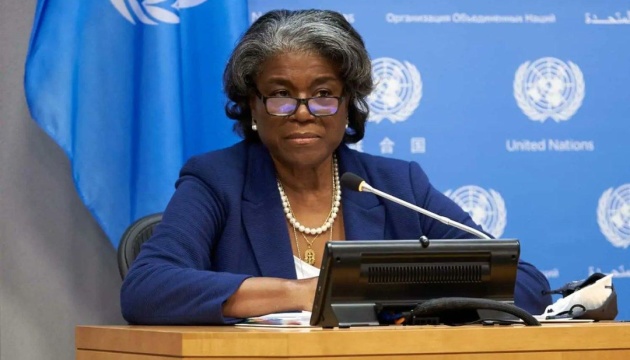 Russia's attacks on Ukraine's infrastructure are escalation in war – US ambassador
Russia's targeted missile strikes against critical infrastructure in Ukraine are a shameful escalation in this brutal war.
Ambassador Linda Thomas-Greenfield, U.S. Representative to the United Nations, said this at a meeting of the UN Security Council, according to an Ukrinform correspondent.
"Let's be clear: these are attacks on critical infrastructure. And they are a shameful escalation in Russia's already brutal, unjustifiable war," she said.
She noted that Putin is "clearly weaponizing winter" to inflict immense suffering on the Ukrainian people. Thomas-Greenfield called such a strategy by the Russians "inhumane," adding that Moscow resorted to it amid a series of setbacks on the battlefield.
She said that Russia's attacks are so extensive that they have cut off external power to Ukraine's nuclear power plants. In addition, they created serious risks at nuclear facilities in Ukraine.
In this regard, Thomas-Greenfield called on the UN to "clearly and unequivocally" condemn Russia's actions and emphasized the need to achieve the creation of a mechanism for accountability.
"We must do everything in our power to support the Ukrainian people," she said.
The UN Security Council on Wednesday held an urgent meeting to discuss Russia's missile strikes on Ukrain's critical infrastructure.