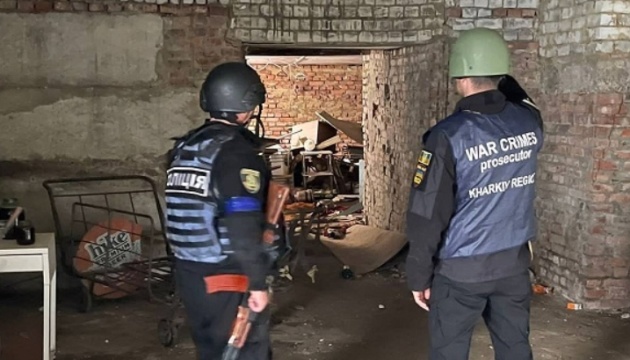 Thousands have gone through Russian torture chambers in Kherson region - ombudsperson
Thousands of Ukrainians were subjected to torture in Russian captivity in the occupied parts of Kherson region.
That's according to Dmytro Lubinets, the Verkhovna Rada Commissioner for Human Rights, who spoke on the air of Freedom TV, an Ukrinform correspondent reports.
"Regarding the number of people who have passed through them (torture chambers - ed.), it's thousands. You know, I visited all the liberated territories... but the scale of violations of international humanitarian law that I saw there (in Kherson region — ed.) horrified even me. Here, the Russian Federation has already reached the point where they separately made a cell for children, where they were beaten in the same way," Lubinets said.
According to the official, the invaders did not seek to get information from people – they just beat them. As Lubinets noted, witnesses claim they were taken from their homes or off the street, had a bag put over their heads and been taken somewhere, were they would be severely beaten for days, tazed, and practically not asked any questions.
"Then they would be allowed to recover a little - and they are taken there again, tied ... to a chair with plastic ties and then asked questions. But it was something like: 'We know that you are a spy for the Armed Forces of Ukraine." Do you confirm this? You can actually not confirm this because we already know everything. You're here to sign that you are a spy,'" the ombudsman said.
According to Lubinets, if a detainee started to say something, he was beaten again, tortured with electric current. People were brought to such a condition that some of them even asked their torturers to kill them.
In one of the torture chambers, people were deprived of food and drinking water, forced to collect technical water from a pipe in the cell and share it.
"The guys would collect this technical water in a plastic bottle and pass it from cell to cell. There was a small hole where a heating pipe was laid... people passed this bottle through this hole so that the bottle reached all the cells – there were six of them. (Then) it would be passed back – and again, they would collect (water)," Lubinets said.
At the same time, the Russian military recorded their atrocities on video. The ombudsman noted that it is impossible to explain "why such cruelty, such treatment was targeting ordinary civilians, even more so children."
The official expressed the opinion that such brutal repression was applied to Kherson residents, including teenagers, because this city became an outpost of the indomitable Ukrainian spirit.
"Videos went viral around the world when people from Kherson continued to go out in the square of the already occupied Kherson, carrying Ukrainian flags, singing the national anthem, and shouting 'Glory to Ukraine.' And probably, this affected the Russians in such a way that, in addition to the traditional filtration camps, death camps, and the traditional use of electric current, they abducted en masse the civilian population, including children. Kids walking around Kherson posting leaflets, probably with pro-Ukrainian content, were believed to be a threat to them," said Lubinets.
According to the ombudsperson, the FSB is coordinating torture in all the territories captured by Russia, while in Kherson, it was the units of the Russian Guard that were operating.
Regarding the cases of sexual violence by the invaders in Kherson region, Lubinets said that these facts are being recorded. "This is a very sensitive topic," so it is necessary to approach each victim of sexual violence professionally, said the ombudsman, emphasizing that it is important to preserve the anonymity of the victims.