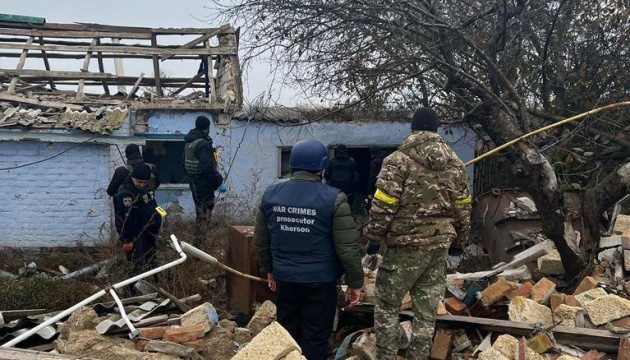 Bodies of seven civilians, including teen girl, discovered in village near Kherson
In the liberated part of Kherson region, law enforcers recorded yet another Russian war crime, namely, the execution of seven civilians, including a teenage girl.
The Prosecutor General's Office reported this on Telegram, Ukrinform saw.
Kherson's law enforcement officers ran an inspection of the location where the Russian military appear to have committed a war crime.
According to tentative data, in April 2022, during the temporary occupation by Russian forces of a village in the Kherson district, the invaders y shot dead seven people in a single household. After that, they blew up the house where their victim's bodies remained.
Preliminary reports say employees of the company guarding irrigation units near the village, as well as a teenage girl, were in the house at the time of the assault. Bodies of adult victims were buried near the scene, while the girl's parents buried their daughter's body in the local cemetery.
In order to ensure a proper probe of a war crime, a forensic medical examination is underway
A pre-trial investigation into the violation of the laws and customs of war, combined with premeditated murder (Part 2 of Article 438 of the Criminal Code of Ukraine) is ongoing.
As reported by Ukrinform, law enforcement officers discovered the bodies of two more civilians who died as a result of enemy shelling in the territory liberated from Russian forces in the Beryslav district, Kherson region.