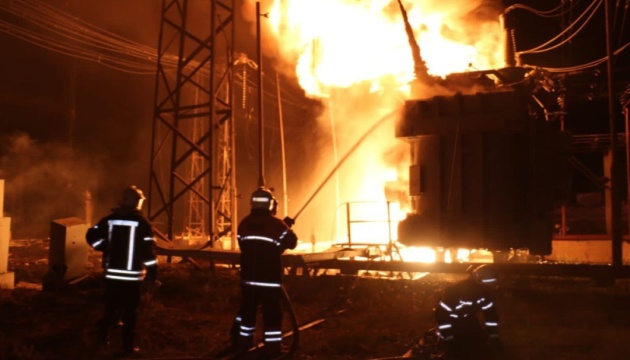 Russia attacks energy facilities run by DTEK 13 times over past 1.5 months
Energy facilities run by DTEK Energo across Ukraine were hit in Russian strikes 13 times over the past 1.5 months, suffering significant damage, also with casualties reported in a number of cases.
That's according to DTEK press service, Ukrinform reports.
"Yesterday, November 15, Russia carried out another wave of massive terrorist attacks on the civilian and energy infrastructure of Ukraine. A DTEK Energy facility was once again damaged by missile attacks. According to tentative reports, there were no casualties," the report says.
For the sake of safety, only critical staff remain at the facilities, while others work remotely.
Employees of DTEK Energy continue to do everything possible to maintain reliable operation of the Ukrainian energy system amid systematic missile attacks. The company operates in line with state-owned NEC Ukrenergo.
DTEK is Ukraine's largest private vertically integrated energy company. It was founded in 2005 to manage the energy business of SCM Group. The DTEK Energo division controls up to 90% of coal production and up to 80% of heat generation in the country.
DTEK Energo's thermal generation enterprises (as part of DTEK Skhidenergo (includes two TPPs), DTEK Dniproenergo (three TPPs) and DTEK Zahidenergo (three TPPs) boast more than 13.5 GW of total installed capacity.