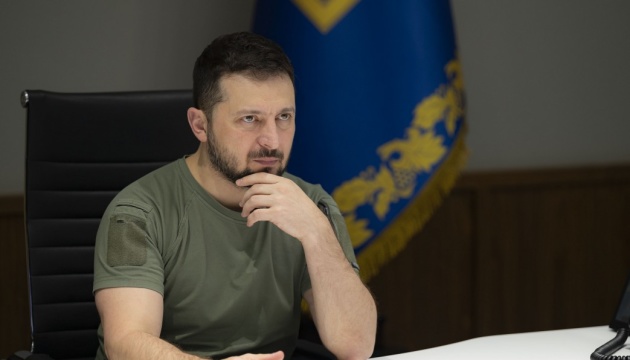 Russian war destroyed 2M hectares of forests in Ukraine in less than six months - Zelensky
The war started by Russia destroyed two million hectares of forests in Ukraine in less than six months and caused an energy crisis.
President Volodymyr Zelensky stated this in his address to the participants of the 27th UN Conference on Climate Change.
"The Russian war destroyed 5 million acres of forests in Ukraine in less than six months! Not every country in the world has such an area of forests that were burned in Ukraine by Russian shelling," Zelensky said.
According to him, the war has caused an energy crisis that has forced dozens of countries to resume coal-fired power generation in order to lower energy prices for their people at least a little - to lower prices that are shockingly rising due to deliberate Russian actions. The Russian war brought an acute food crisis to the world, which hit worst those countries suffering from the existing manifestations of climate change – catastrophic droughts, large-scale floods.
"We have to check every day the situation at Zaporizhzhia nuclear power plant, the largest in Europe. If there is no radiation leaks? The Russian army has turned this nuclear power plant de-facto into a military training ground. They are constantly 'playing' with connecting and disconnecting the plant and nuclear reactors from the power grid. This is a direct risk of a radiation disaster. Who will care, for example, about the amount of the greenhouse gases in the atmosphere if part of Europe or the Middle East, and possibly northern Africa, God forbid, are covered by a radiation cloud after an accident in Zaporizhzhia? Last year we could not even imagine that kind of question, but this year Russia has posed dozens of such questions to the world," Zelensky said.
The President noted that no one can stay aside of the problems of environment and climate change.
"No one can stay aside. And the poorer the person, the poorer the family, the poorer the country – the more painful the effects of climate change will be for them. However, this also applies to all rich nations – it is impossible to buy off the destruction of the climate," Zelensky stressed.
As reported, the UN climate change conference is held in Sharm El-Sheikh on November 6-8, 2022. A Ukrainian pavilion, dedicated to Russia's climate crimes and their global consequences, was opened there.