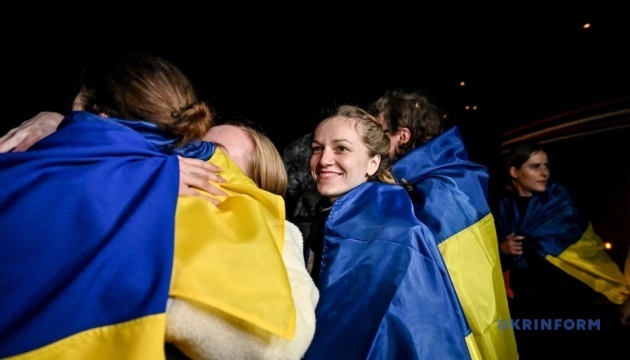 About an 'all-female prisoner exchange'
"We were tortured with electric current, beaten with hammers, hung, and scalded with boiling water"... Testimonies of Ukrainian women released from Russian captivity
October 17 will go down in the history of our country as the day when Ukraine managed to return 108 women from captivity. According to Head of the President's Office Andriy Yermak, "this was the first all-female prisoner exchange."
Media representatives were not allowed to see with their own eyes how exactly the exchange procedure takes place, how freed Ukrainian women walk through the government-controlled territory and board buses. First of all, no one can be completely sure that the terrorist state will not change its mind, will not disrupt the exchange, will not violate the ceasefire regime, and many other "not's". So, the journalists were offered to simply wait at a conditional point "A". We were warned that both military and civilian women were expected to be freed from captivity and that they could refuse to communicate. So we were even ready for the fact that we would simply see Ukrainian women defenders through the bus window, they would wave at us (or maybe not), and that was it. We were waiting for almost three hours, but it was nothing compared to how long those women had been waiting.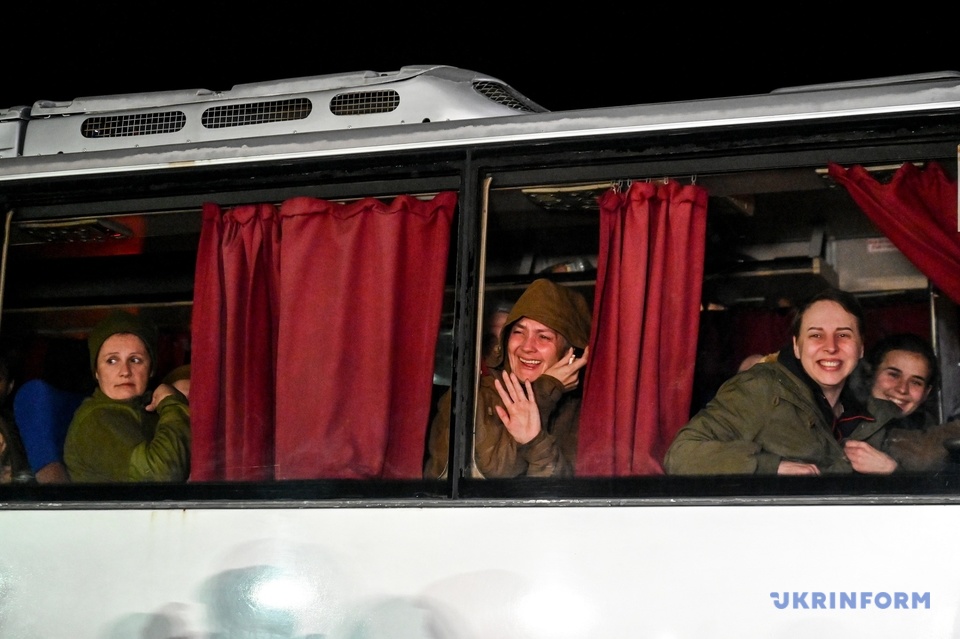 In the meantime, fellow service members gathered at point "A".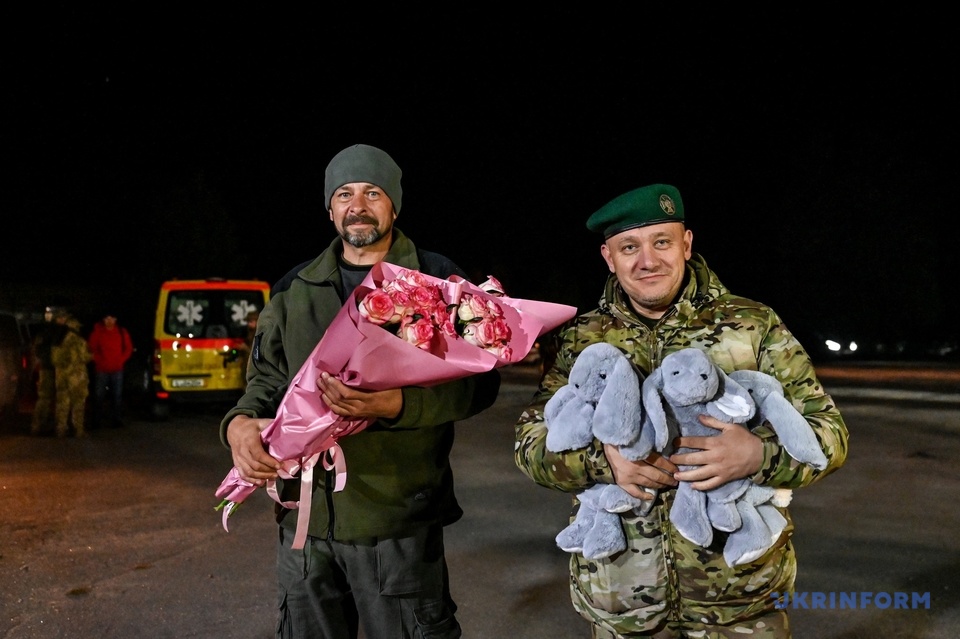 And then ambulances started arriving at the gathering place, followed by three buses. Before the buses stopped moving, the women were already leaving them, hugging each other, searching for acquaintances among the "freed hundred" and giving interviews despite their fatigue.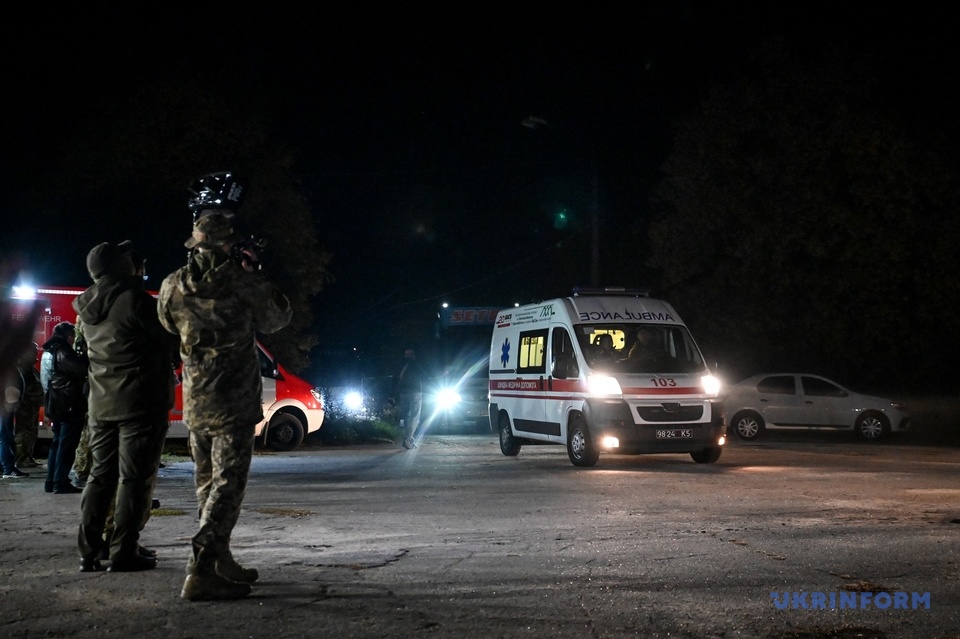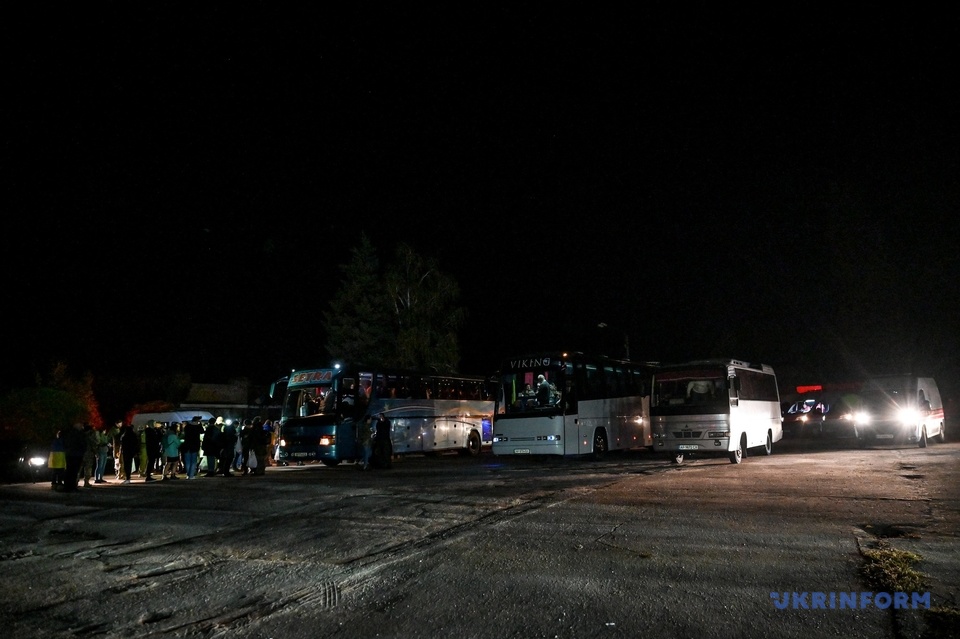 'THEY TOLD US THEY WOULD SHOOT US LIKE DOGS'
Hanna O., 26, a serviceman of the 36th Marine Brigade, returned home on one of the buses. The girl was held in captivity for six months and four days. She left the Azovstal steelworks in Mariupol with her fellow service members when the occupiers started bombing it. The girl says that if they had not surrendered, they would surely have died.
"I can't believe it now... I dreamt so many times about being at home..." Hanna admits.
She talks about the captivity with tears in her eyes.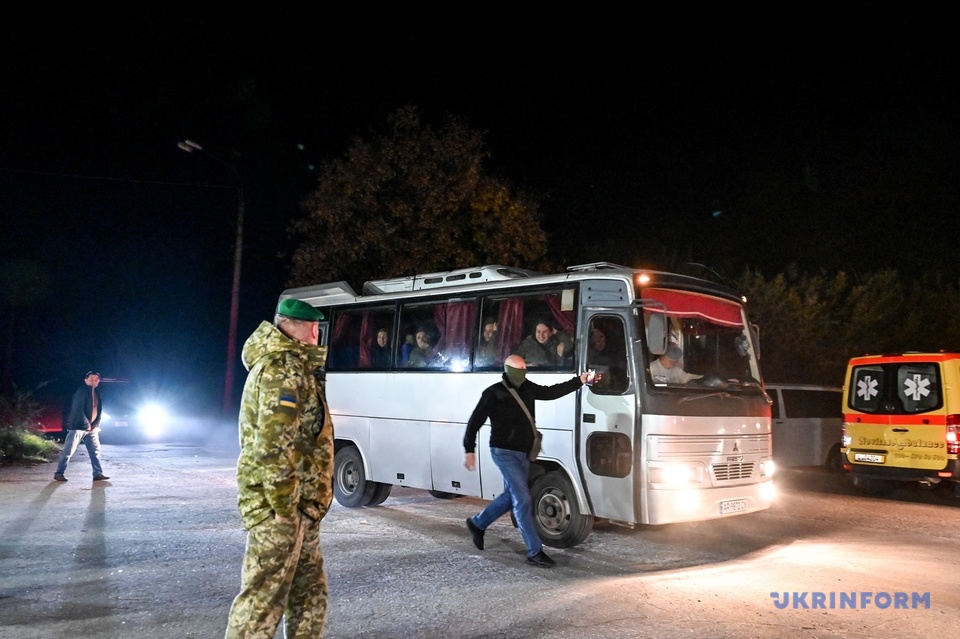 "They treated us like animals. I'll tell you more: even animals don't behave like that. They beat the girls, they tortured the girls with electric current, beat them with hammers, that's the easiest thing. They hung girls. I don't talk about the food at all, because it was sour. Even the dogs are not given such food. Those who had tattoos... they wanted to cut off our hands, cut off the tattoos, scalded us with boiling water just because you exist, because you are a marine, because you speak Ukrainian," the servicewoman speaks about the horrors she experienced.
When asked what helped her to survive, the girl admits: "The dream of returning home."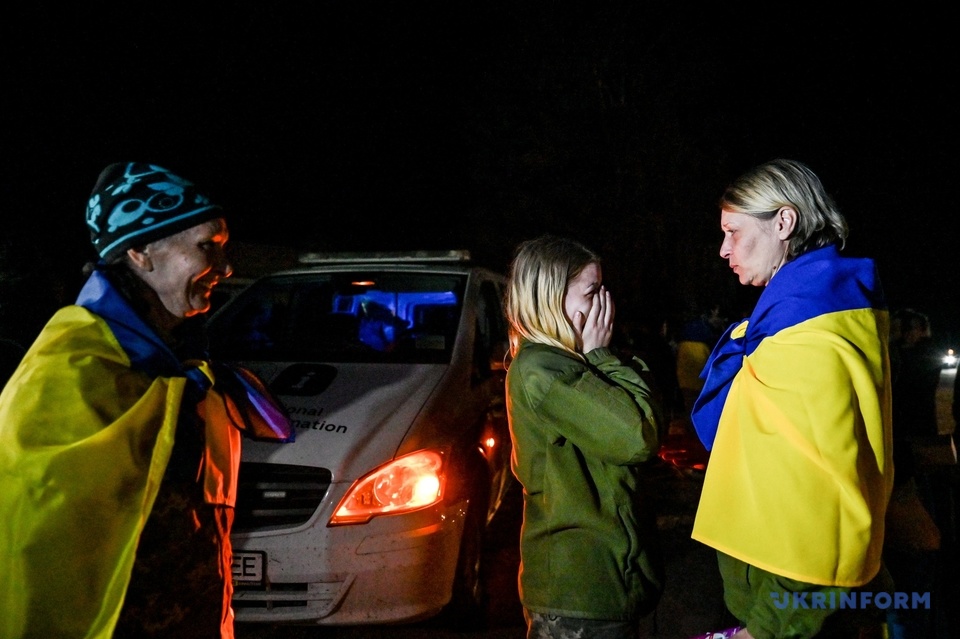 "We did not betray our oath, the women doctors did not betray theirs. This is what we lived on. Just the hope that we will return home."
A child, a mother, and a sister are waiting for Hanna at home. Her husband, as she says, "is held in captivity somewhere."
"I don't know where he is," Hanna says.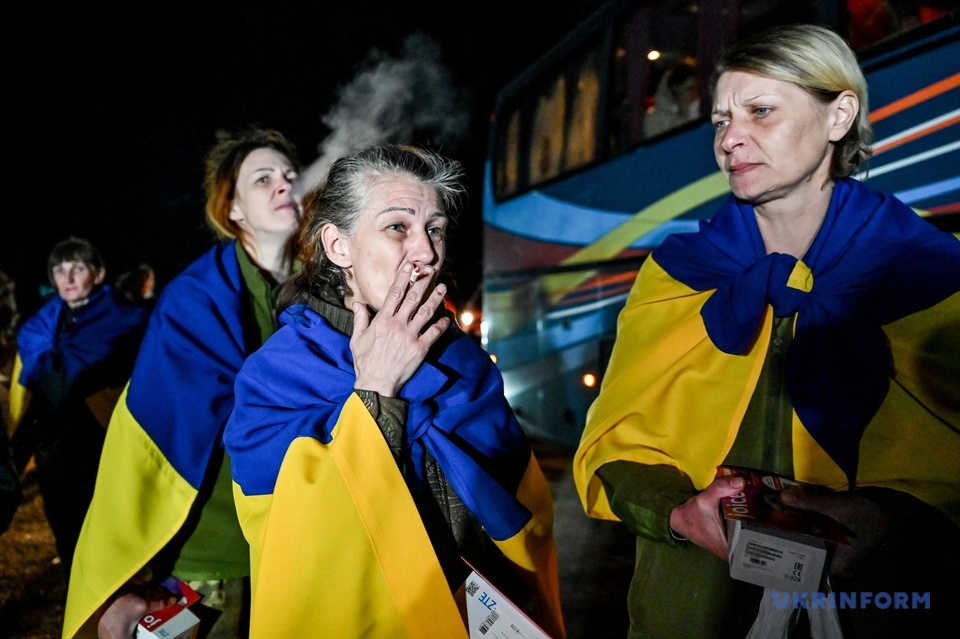 The woman has not yet called her child, because, as it turns out, the child is currently in the occupied territory [that is why we do not indicate the woman's last name], the mother is in Mykolaiv. The servicewoman has not heard from any of her relatives for more than half a year.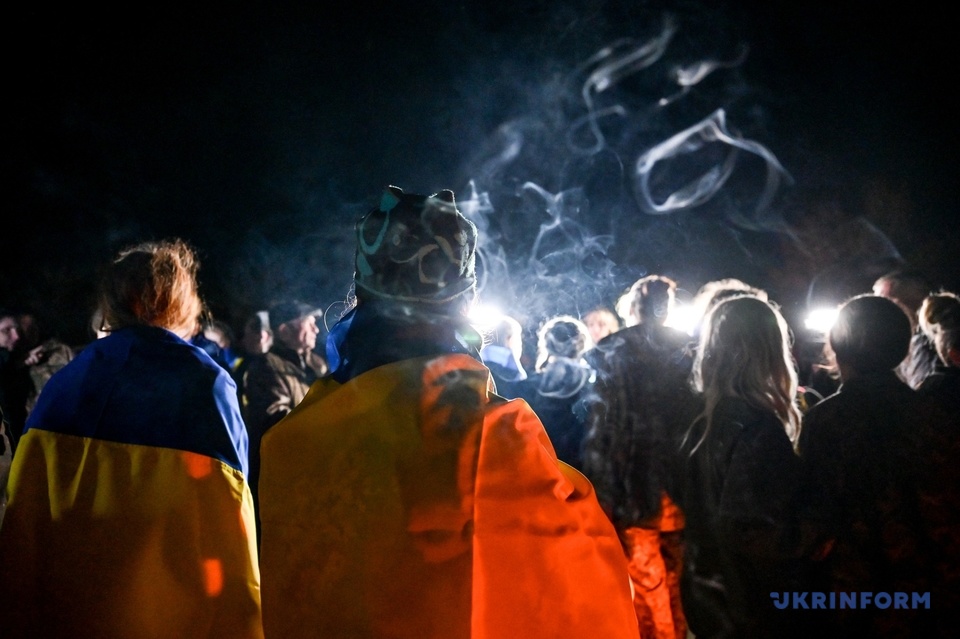 "Did they know you're on the exchange lists?" I ask.
"No. They [Russians] said that we would not be exchanged, that we would sit until the end of the 'special operation', and then maybe we would be lucky and we would go home or maybe not. They said that, as a last resort, they would simply shoot us like dogs. They said that no one needed us here, they insulted us with vile words and that's all."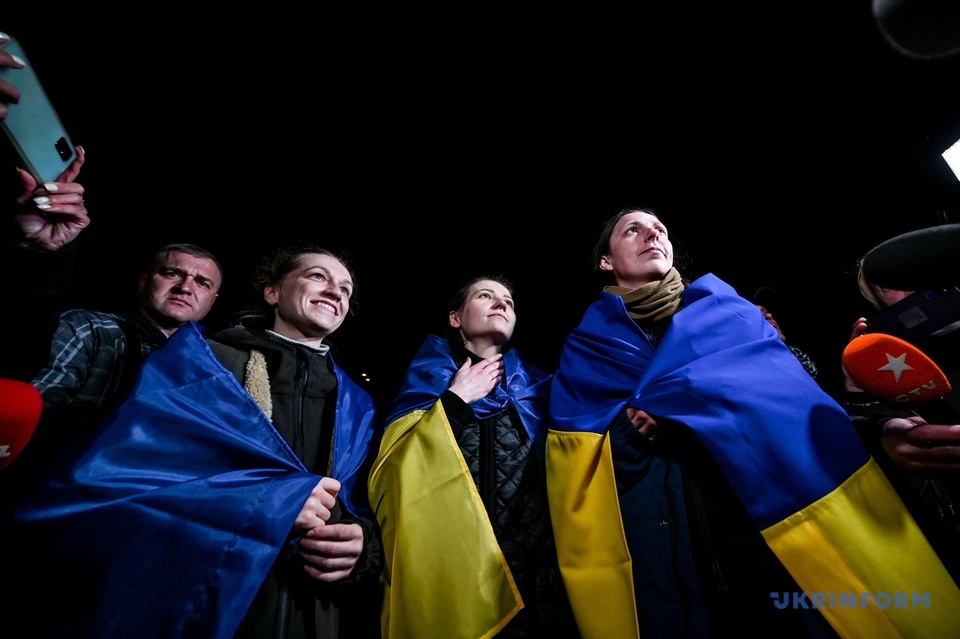 The girls realized that they were going home only when they arrived in the temporarily occupied Crimea, in Simferopol.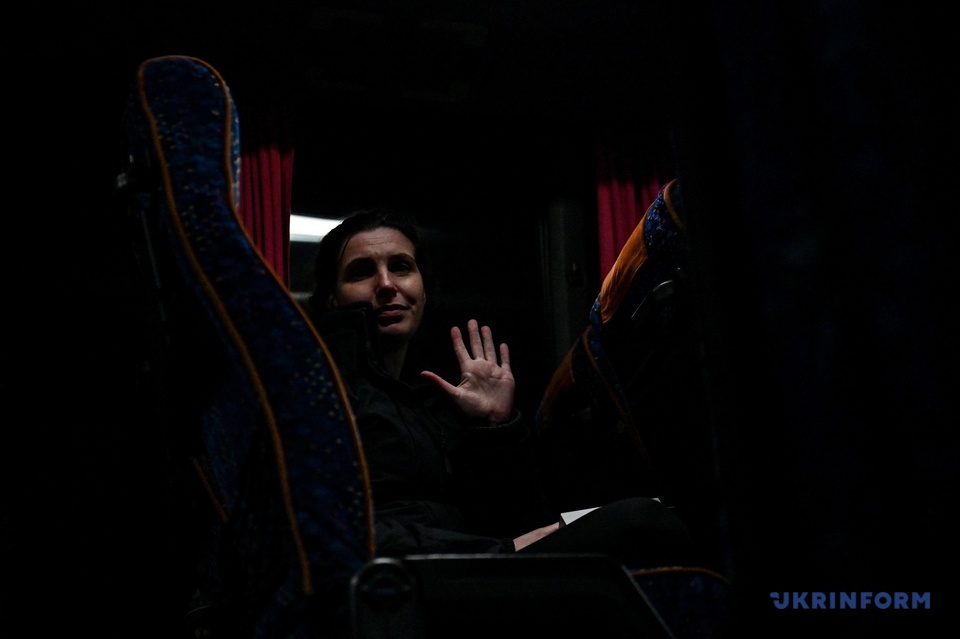 "There was a boy, I don't know how old he is, and he said: 'Girls, don't worry, you're going home', because we all started to cry. But we didn't believe him. We realized it was true just when we heard our native language..." Hanna says.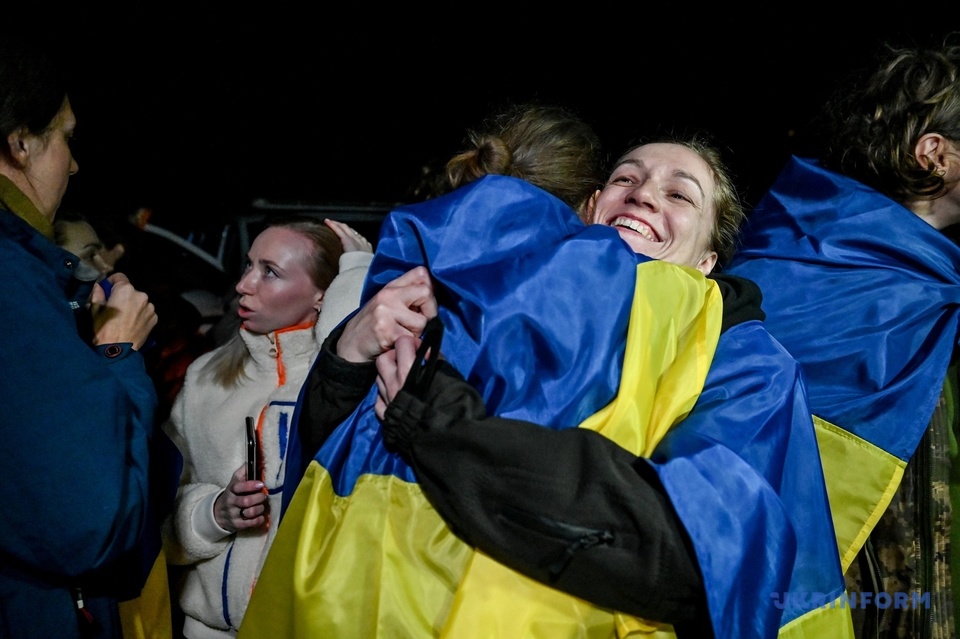 She adds that the occupiers transferred them with their hands tied with tape and ties, bags on their heads so that they could not see anything. Hanna saw acquaintances out of the corner of her eye, the girls began to hug, and our conversation ended.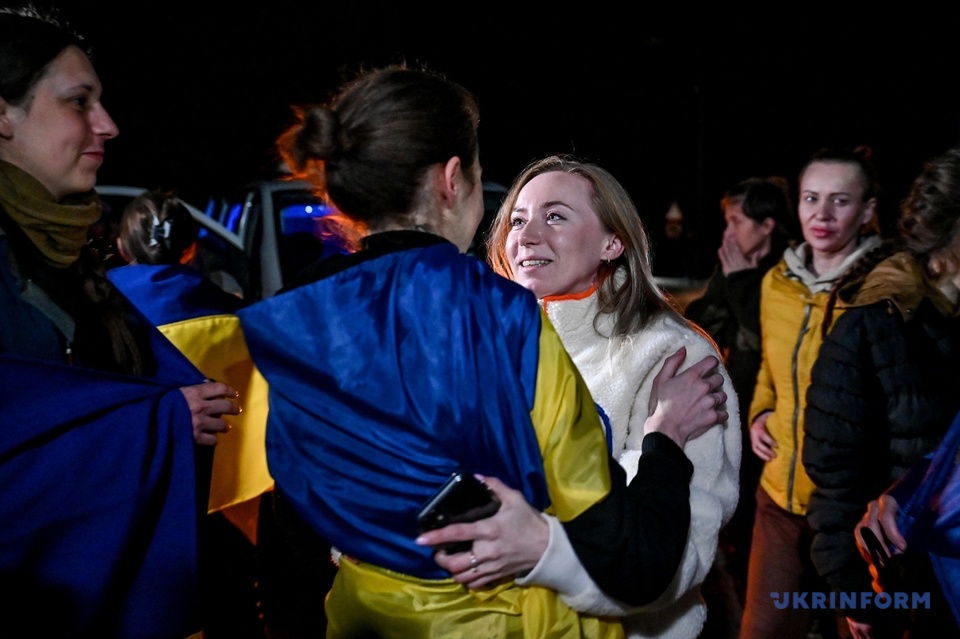 Meanwhile, released defenders and civilian women were given new mobile phones and SIM cards, as well as basic necessities. One could hear from different sides of the site where the buses stood: "Hello, I was exchanged", "I'm alive", "Hello, it's me. Everything is fine"...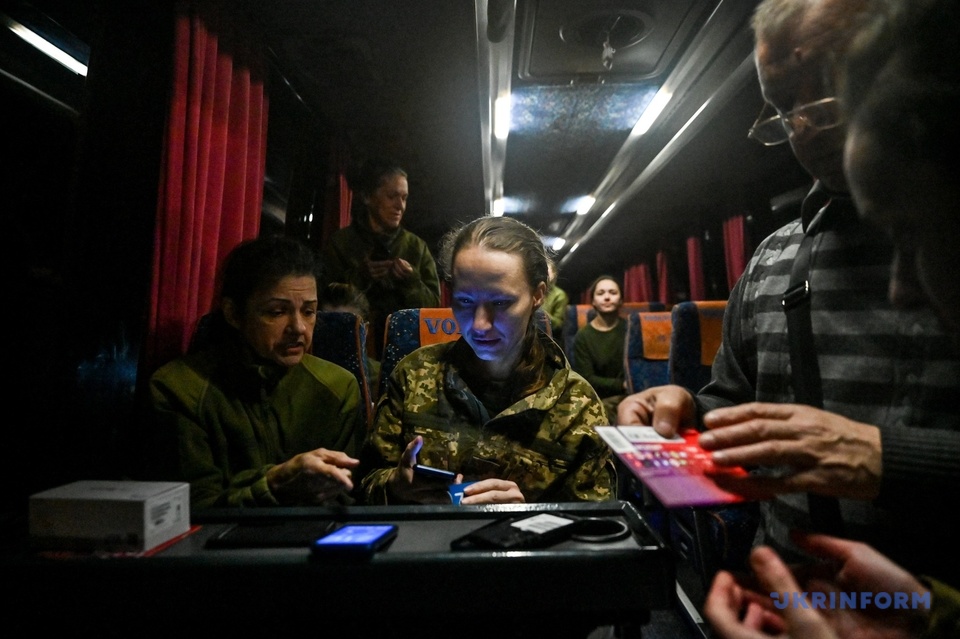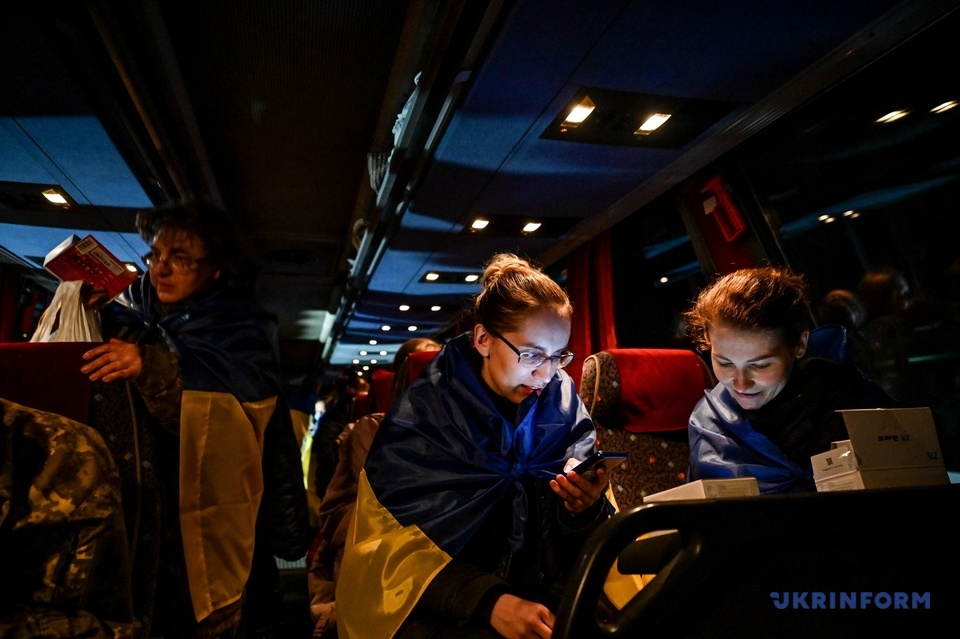 I GAVE INTERVIEW, SAID WHAT THEY ORDERED, OTHERWISE THEY WOULD HAVE BEATEN ME
Among the 108 released, there was a military doctor from Azovstal who was separated from her 4-year-old child by the Russians during the evacuation on May 8. Back then, Ukrinform correspondents met buses with those who had stayed in the steelworks' bunkers, talked to little Alisa who had been traveling from Manhush to Zaporizhzhia with strangers.
She is a little girl with a very wise and mature glance, a four-year-old child whose words could give you goosebumps. Alisa has been living with her grandmother in Poland for several months, she has learned Polish a little and goes to a kindergarten. We spoke with her grandmother (the mother of the captured doctor) several times by phone, but there was no news about Viktoria.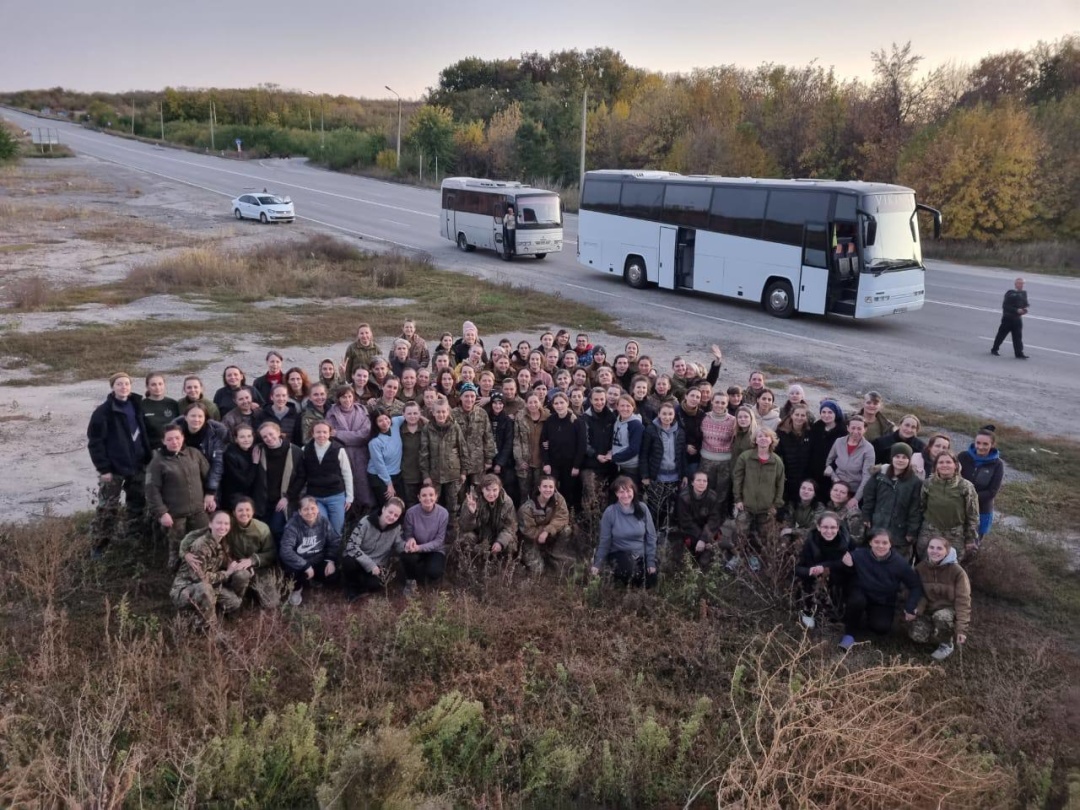 Looking at the photos from the place of the exchange, which Andriy Yermak made public on the social network, we saw a woman who looked like Viktoria Obidina, Alisa's mother. However, it was not so easy to find her among 108 women in complete darkness.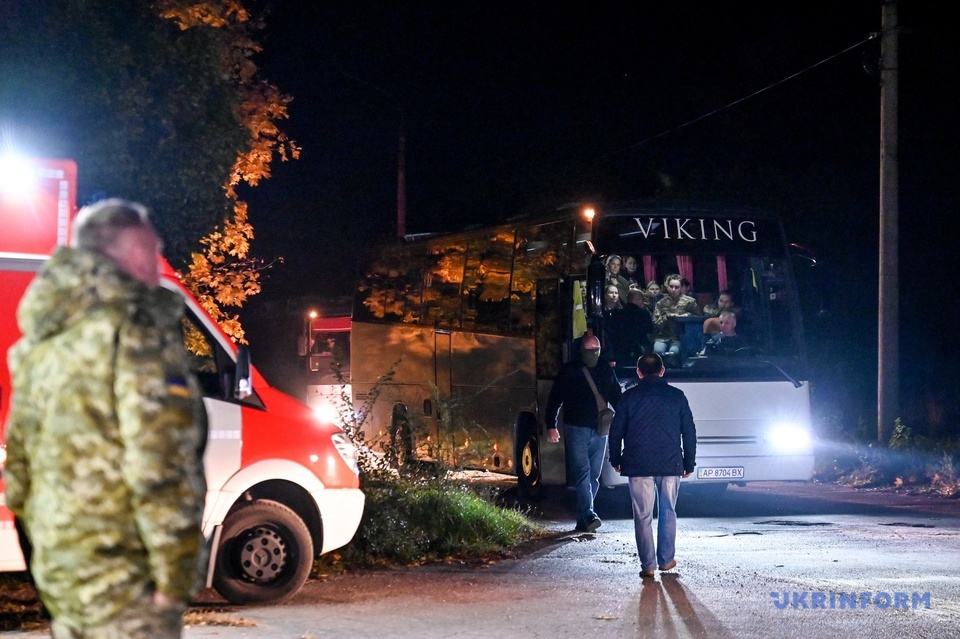 We got on the buses, asked the girls, and then, in the end, we started calling her and… we were lucky, she answered.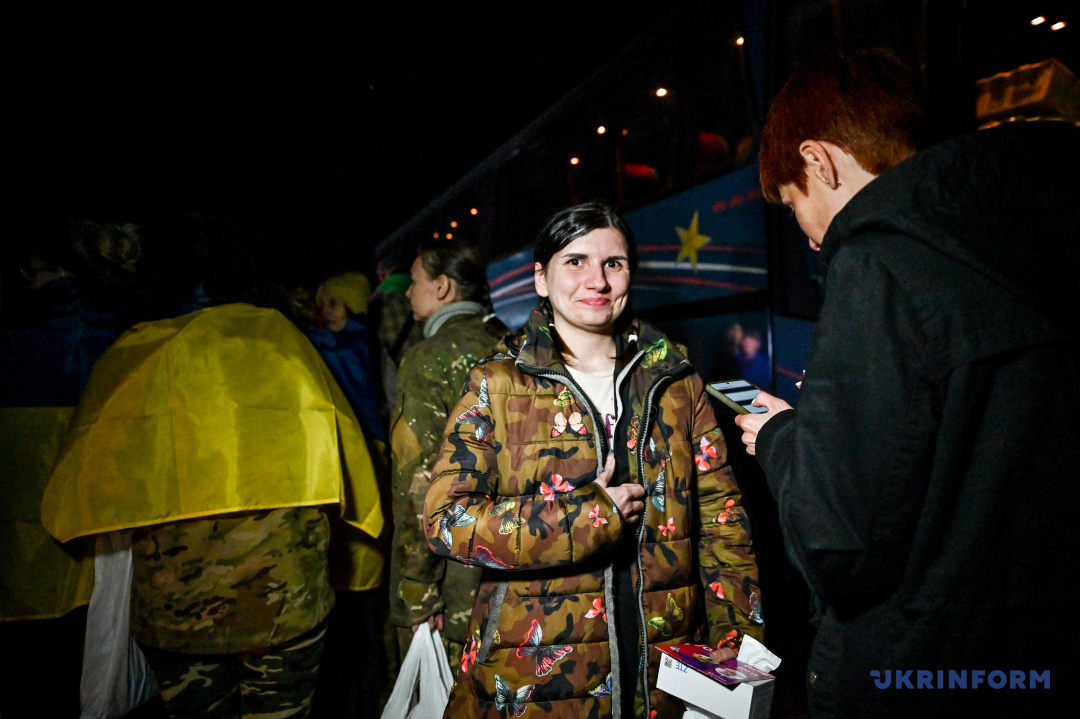 "We met your child, talked with your mother," I begin the acquaintance with Viktoria.
"Thank you… thank you very much," the woman said.
"I can call your mother. Right now. Will you talk?"
"Is it possible?"
I could not get through to her mother on the first try, but I decided not to lose hope and dialed again. And luckily, Svitlana, Viktoria's mother, picked up the phone.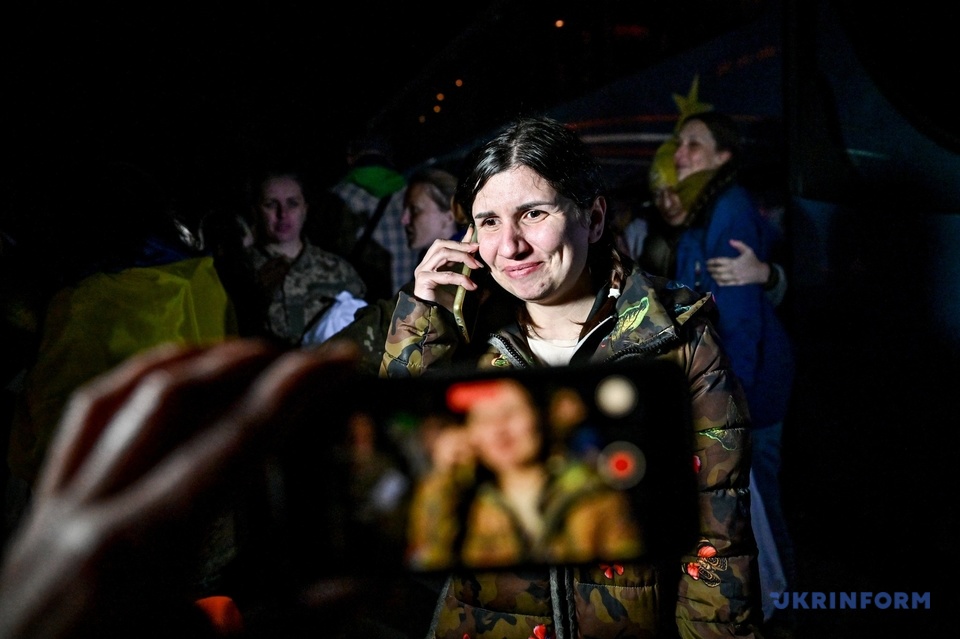 "Mommy, hello [at that moment she was holding the phone and almost cried]. Mom, thank you... I'm in Ukraine. Mom, today, I have just been exchanged... I'm very happy. Thank you. Nothing was returned: no documents, no jewelry. Nothing at all. I love you very much, hug and kiss my daughter," that was the first conversation with her mother after the release.
Viktoria said that she worked in a military hospital in Mariupol and then went to Azovstal by order of the commander.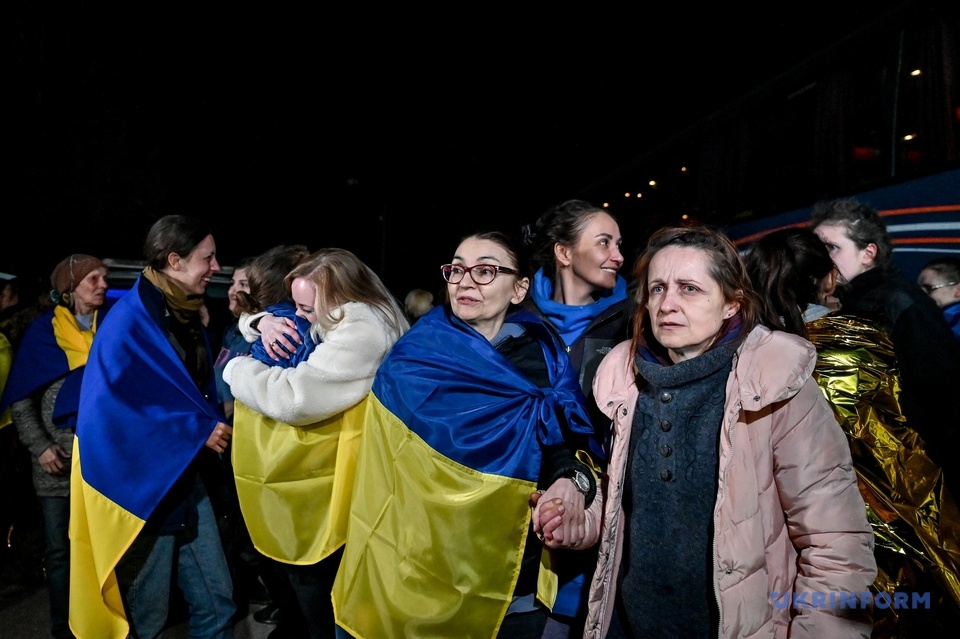 "I am a doctor, a medical assistant at a polyclinic. A story about the girl from Azovstal is the story about my daughter. I was told that my child would be taken to an orphanage... they did not want to let her go to the territory controlled by Ukraine, but then they allowed me to write a power of attorney and take her out," Viktoria recalls the events that happened at the beginning of May.
Then she, together with little Alisa and civilians, left the bunkers of the steelworks. However, when undergoing filtration in Bezimenne, the Russians found out that the woman was a military doctor and "detained her for 30 days."
"They said that if they didn't find anything on me, they would let me go, but... [I was held in captivity for] 165 days," she says.
The woman knew that her daughter had reached Zaporizhzhia but learned about what happened to her later only on October 4.
"Alisa's birthday was on October 3 and I was allowed to call my mother on October 4."
Viktoria recalls how in captivity she was forced to appeal to [Ukraine's Deputy PM] Iryna Vereshchuk and ask for the return of the child. She was forced to give an interview to Russian media.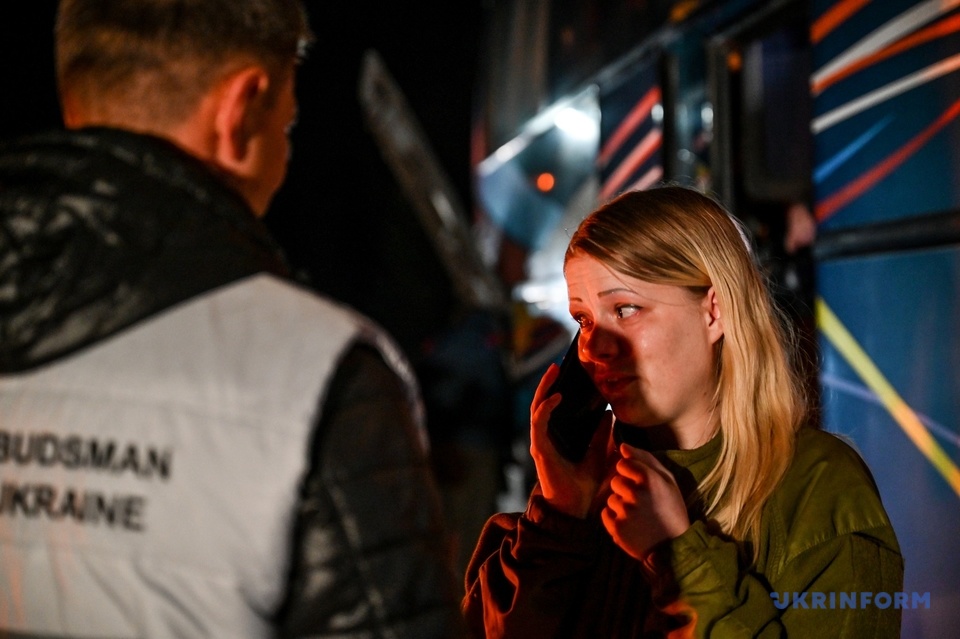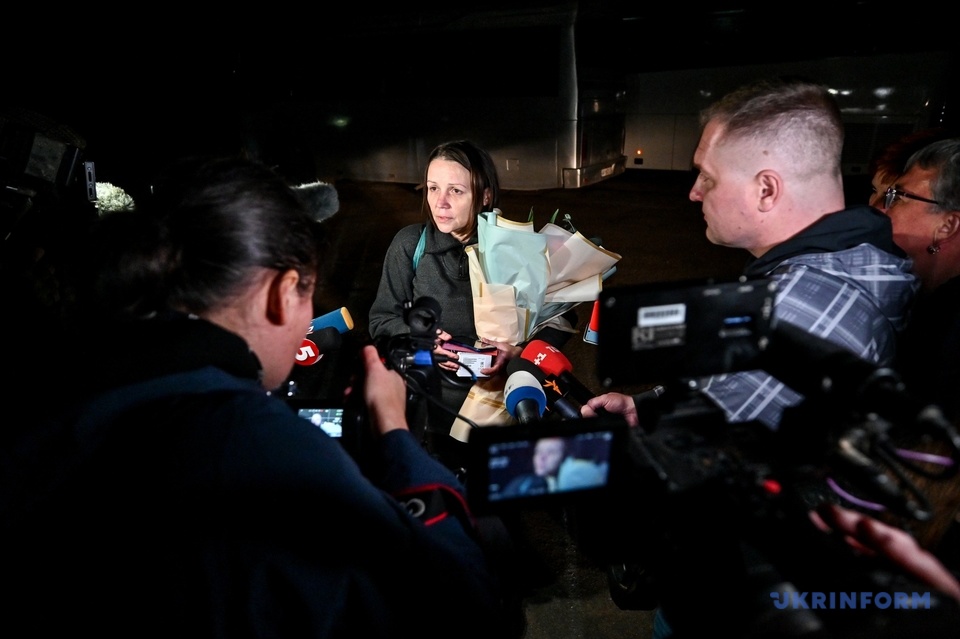 "They told me that I could not refuse. Otherwise, they would have beaten me and made a video anyway. I said what they told me. There was no other way," the woman admits.
The woman did not know that she was being prepared for exchange. Moreover, during the conversation, her mother said that she had seen not a single photo of Viktoria from captivity. No one knew that she was in Olenivka.
"They didn't say that I was in Olenivka. I spent a month in the office for combating organized crime, then I was transferred to a detention facility, also for a month, and only then – to Olenivka [former penal facility]."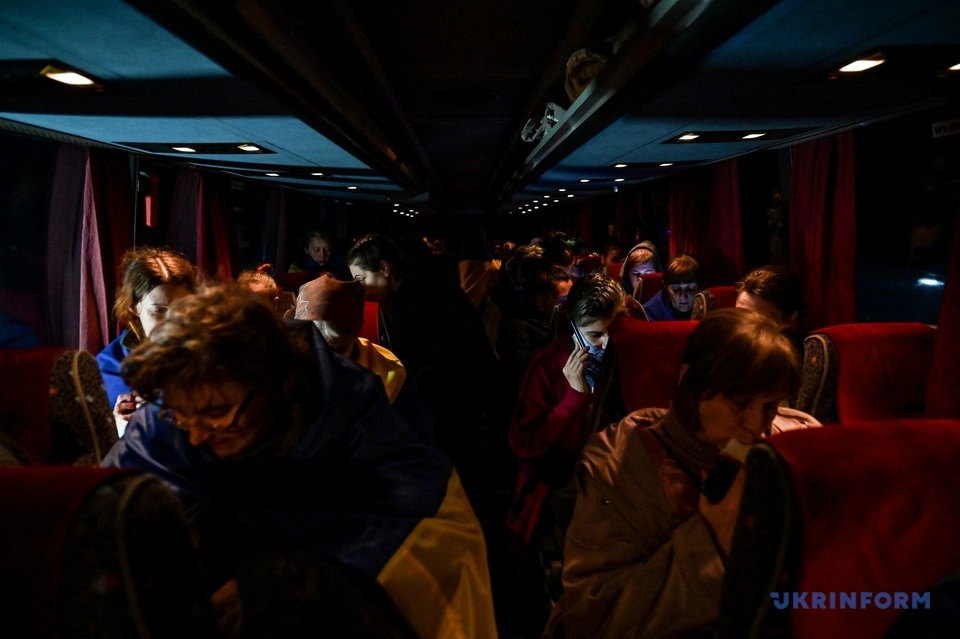 A few days ago, Viktoria and three other girls (bakers) were taken to Russia's Taganrog. The woman recalls that she was very afraid to stay there. They were not told anything about the exchange, they were transported on the plane with their hands tied and caps pulled over their eyes, only allowing them to look down. They couldn't believe they were going home until they crossed the demarcation line and boarded the buses.
Now a woman dreams of seeing her daughter more than anything else. She says she wants to find a job but has no idea what her new life will be like at all.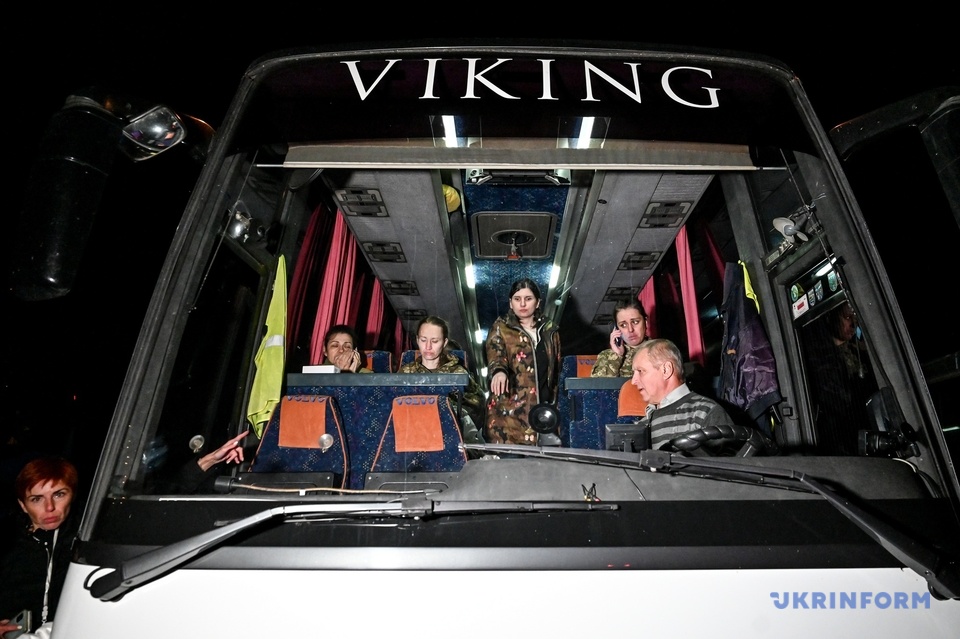 Viktoria and the other girls were called to the buses. They will undergo medical examination and rehabilitation. While we are standing near the buses, we hear Olha Lykunova, a member of the Territorial Defense Forces, calling her child for the first time in six months and five days. We hear girls from the National Guard of Ukraine, wrapped in yellow and blue flags, giving their first interviews. Each of those who were returned home on October 17 does not get tired of thanking the Ukrainians and the country and also asks to do everything possible to return those who are still waiting for an exchange.
As reported, 35 servicewomen of the Armed Forces of Ukraine, 32 servicewomen of the Naval Forces, 12 servicewomen of the Territorial Defense Forces, eight servicewomen of the National Guard of Ukraine, including two members of the Azov Regiment, five servicewomen of the State Special Service of Transport, four servicewomen of the State Security Service, and 12 civilians returned from captivity as part of the "all-female exchange".
Olha Kudria, Zaporizhzhia
Photo credit: Dmytro Smolyenko