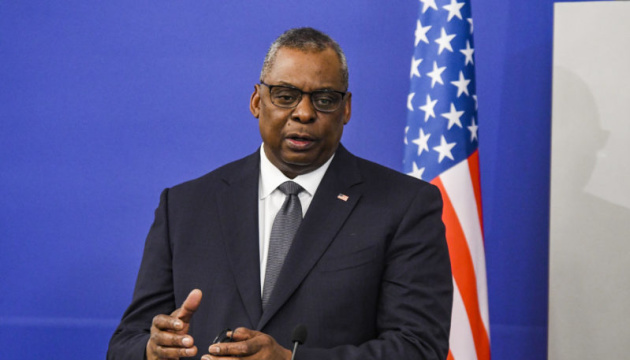 Pentagon chief: New air defense systems to be delivered to Ukraine as quickly as possible
The Ukraine Defense Contact Group is ready to deliver the air defense systems to Ukraine as quickly as the physical capabilities for their delivery allow.
"These systems will be delivered to Ukraine as quickly as we can physically deliver them there. This is a top priority and what we will focus on. We intend to provide the systems that we have and that are available, that countries like Germany have available. We will also try to provide additional equipment for the systems that the Ukrainian forces are already using now," U.S. Secretary of Defense Lloyd J. Austin III said at a press conference following the Ramstein-format meeting in Brussels, an Ukrinform correspondent reports.
He noted that all the participants in today's meeting – 50 countries – understood the concern of Ukrainians for the safety of their homes and their families.
"We will do what we can do as soon as possible to help the Ukrainian forces acquire the capabilities they need to protect the people of Ukraine. It has been and is important for all 50 participating states, for ministers, as well as for chiefs of staff. The benefits of this Contact Group cannot be overestimated. It helps to solve current problems and mobilize resources much faster than we would otherwise be able to do," the U.S. Secretary of Defense said.
As reported, the 6th meeting of the Ukraine Defense Contact Group took place in Brussels on Wednesday. The meeting was attended by representatives of 50 countries that agreed to support Ukraine's defense capabilities amid the Russian aggression. One of the main issues discussed at the meeting in Brussels was the provision of more modern air defense systems to Ukraine.
ol