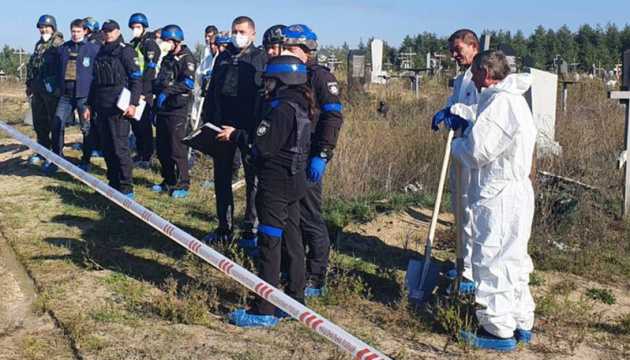 Seventy-eight bodies exhumed in de-occupied Sviatohirsk, Lyman
A total of 78 bodies, including those of children, have been exhumed in the Donetsk region's Sviatohirsk and Lyman, liberated from Russian invaders.
The relevant statement was made by the Ukrainian Prosecutor General's Office on Telegram, an Ukrinform correspondent reports.
On October 4-10, 2022, an investigation and prosecution team examined such cities as Sviatohirsk and Lyman, which had been liberated from Russian troops, and discovered the burial sites of local residents.
In Sviatohirsk, law enforcement officers exhumed 34 bodies, and some of them bore signs of a violent death. In addition, two burnt bodies were found in a car, and their identities are yet to be confirmed.
In Lyman, about 100 trenches were discovered in the Nova Masliakivka cemetery. Children were among those buried in graves there. The youngest child was just one year old, and she was buried together with her whole family. A total of 44 bodies have already been exhumed.
A reminder that the Armed Forces of Ukraine liberated the Donetsk region's Sviatohirsk from Russian troops on September 12, 2022. On October 2, 2022, Ukrainian President Volodymyr Zelensky announced the Ukrainian military had fully cleared the Donetsk region's Lyman from Russian invaders.
mk