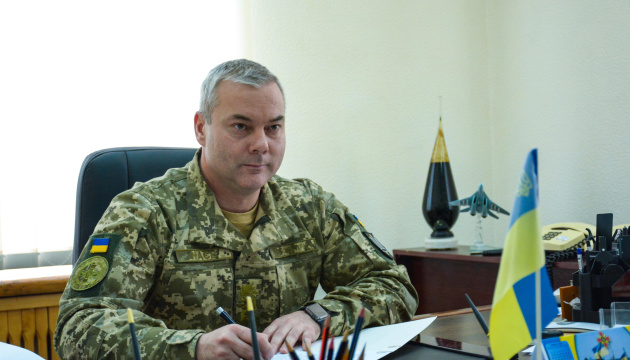 Belarus may dare invade Ukraine when pressed to limit by Russia - Naiev
The number of Belarusian troops amassed along the state border with Ukraine has not increased at the moment. Belarus will dare to launch an attack on Ukraine only when it gets the appropriate order from the Kremlin and when the Alexander Lukashenko regime is finally made to do so.
As reported by Ukrinform, this was announced by Commander of the Joint Forces, Lieutenant General Serhiy Naiev, who spoke on the air of the nationwide telethon, answering a question about the situation on the border with Belarus.
"Announced, but not yet completed exercise is underway. They are training their management bodies, their railway transportation system. The number of (Belarusian - ed.) troops along the state border of Ukraine and Belarus has not increased," Naiev said.
Answering the question of whether Belarus would dare to launch an attack on Ukraine, Naiev said: "Belarus will do it when they receive the appropriate command from the Russian Federation, when the Belarus regime is pressed to the limit – that's when they would be capable of such a thing. General Zaluzhnyi (Commander in Chief Valeriy Zaluzhnyi - ed.) is in full control of the situation, if there is a change in the enemy's posture, we will adapt our forces accordingly."
At the same time, he noted that additional mobilization in Ukraine is not in plans, the number of units that have been set up is sufficient for the time being.
As previously reported, Belarus has deployed up to seven battalion tactical groups along the borders with Ukraine and is preparing its infrastructure for the Russian armed forces.
According to Ukrainian intelligence, Putin plans to deploy about 20,000 mobilized Russian troops on the territory of Belarus.