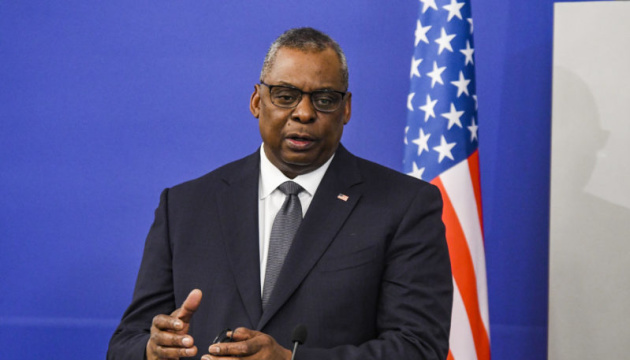 Ukrainians change battlefield dynamics - Pentagon chief
Ukraine is 'making progress' in their advances, changing battlefield dynamics and creating an opportunity to maneuver.
That's according to U.S. Secretary of Defense Lloyd Austin, who spoke in an interview with CNN, Ukrinform reports.
"What we're seeing now is a kind of change in the battlefield dynamics," Austin said. "They've done very, very well in the Kharkiv area and moved to take advantage of opportunities. The fight in the Kherson region's going a bit slower, but they're making progress."
He explained Ukraine's gains by quality training and practical experience of Ukrainian troops, as well as the effective use of western weapons, supplied by the U.S. and other allies.
The defense chief specifically noted the use of the high mobility air rocket systems, or HIMARS, which was able to take away "significant capability" from the Russians. Austin said Ukrainian forces have used "technology like HIMARS" and employed it in the "right way" to "conduct attacks on things like logistical stores and command and control."
In doing so, the Ukraine Army has "created an opportunity for the Ukrainians to maneuver," he added.
When asked why the U.S. has not supplied longer-range weapons that Ukrainians have asked for, Austin said he communicates with his Ukrainian counterpart, Minister of Defense Oleksii Reznikov, "routinely," and believes the U.S. has been "very effective in providing them those things that are very, very effective on a battlefield."
Austin said what will happen in Ukraine is "hard to predict," but he said the US will "continue to provide security assistance to the Ukrainians for as long as it takes."
As reported earlier, the Ukrainian forces advanced to liberate the town of Lyman, Donetsk region, where the Ukrainian flag is already flying.