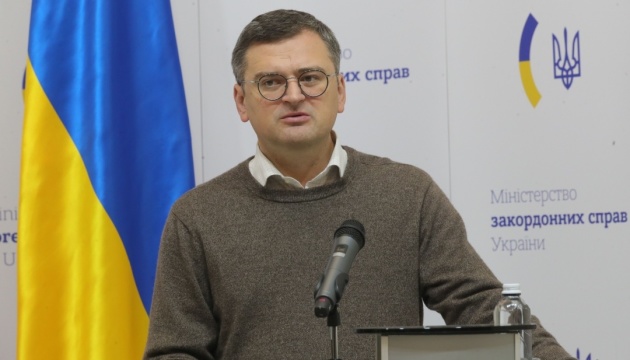 Russia to "simply choke" on new chunks of territory - Kuleba
The first consequence of the attempt at the annexation of the Ukrainian territory by Russia will be that they will simply choke on these new chunks of land.
This was stated by the Minister for Foreign Affairs of Ukraine, Dmytro Kuleba, who spoke in an interview with Interfax-Ukraine, Ukrinform reports.
"The first consequence for Russia will be that it will simply choke on these new chunks of territory that they are attempting to annex," he said.
Kuleba noted that in New York at the UN General Assembly, the leadership of Ukraine has ensured partners' readiness to not only condemn Vladimir Putin's "annexation" decision as harshly as possible, but also to strengthen military and financial support for Ukraine in response to the move.
Also, no one will recognize the annexation attempt, and there will be no deterrent factors for Ukraine from the point of view of running military operations to liberate these territories, the minister assured. "No one will grab us by the hand and say: 'Now stop, now you can't go there,'" the head of the MFA emphasized.
The minister emphasized that Ukraine had completely changed the logic of its partners.
"In fact, I'm absolutely calm in terms of the expected reaction of the international community to an attempted annexation," said Kuleba.
As reported earlier, President of Ukraine Volodymyr Zelensky said Russia would not gain a new territory of Ukraine, but will rather join itself in the disaster that it brought to the occupied territory of our country.