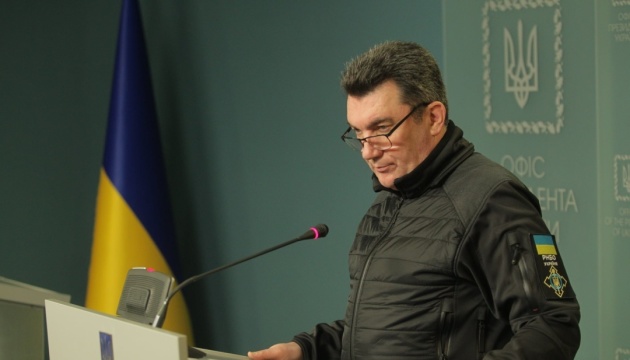 If Russia nukes Ukraine, international response to be immediate, radical - NSDC secretary
Oleksiy Danilov, Secretary of the National Security and Defense Council, expressed his confidence that in the event of Russia employing nuclear weapons against Ukraine, the international response would be immediate and drastic.
The statement came as the top security official was speaking on the air of the "Great Lviv Speaking" show, an Ukrinform correspondent reports.
"Whether they will resort to this act depends only on what's on Putin's mind. I can say that if, God forbid, even if a single nuclear tactical weapon is used against our country, the world's response will be immediate and absolutely radical. I'm more than sure of this," the official stressed.
Regarding the claim that the world will offer no response and let the move slip, the official emphasized that it would be the first time nuclear weapons could be used since World War 2, when Japan was bombed.
"This may be the first such attempt by a nation to employ nuclear arms. And therefore the world, it is quite clear, must react to it. I'm more than sure that they will react," said the NSDC secretary.
At the same time, Danilov said that nothing can be ruled out, but tactical nuclear weapons cannot inflict massive damage to a large area.
"We should all understand that whatever concerns the use of tactical nuclear weapons is not alike Hiroshima or Nagasaki – this is a completely different situation. These are tools that can cover 10, 5, or 20 square kilometers, depending on how crazy our neighbor - the Russian Federation - may get. Still, we should really prepare for any developments, taking into account the crazy neighbor we have next to us. As they say, unfortunately, we don't get to choose our neighbors," the NSDC secretary added.
The official said that in the near future, the NSDC would issue recommendations for the civilian population on how to act in case of such threats as they have already been drafted.
"These recommendations will be released. Moreover, there is a lot of useful information about this in the media. But I'd say that sheltering in a basement in case of any threat is a fundamentally important thing. I can talk about this for a long time because we have plenty of information," the security official said.
The NSDC secretary added that defense experts recommend that citizens not stay in wooden houses at the time of the alert. A concrete structure, preferably a basement, is a recommended option.
"But in no case must people panic," Danilov urged the audience.
As reported, the U.S. Central Intelligence Agency said they saw no signs of Russia preparing its nuclear arsenal for actual use.