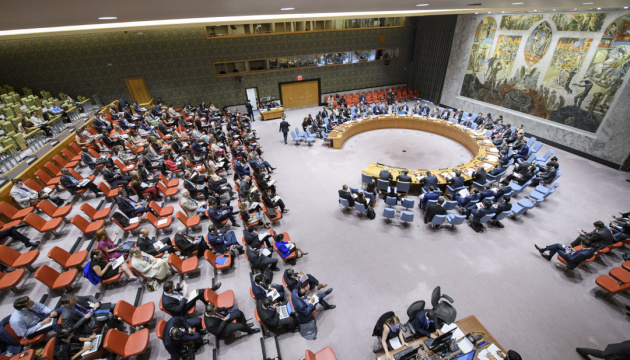 Russia must be expelled from UNSC for undermining int'l nuclear security - expert
The very threat of Russia employing nuclear weapons against Ukraine is a violation of the Budapest Memorandum, which is part of the Treaty on the Non-Proliferation of Nuclear Weapons, and thereby destroys the system of international nuclear security.
That's according to Oleksandr Danylyuk, head of the Ukraine-based Center for Defense Reforms, coordinator of the interdepartmental platform for countering hybrid threats, operating within the framework of Ukraine-NATO cooperation, Ukrinform reports citing Guildhall.
Based on the fact that the Budapest Memorandum provides for the assistance by the UN Security Council, including over any nuclear threat, the Russian Federation must be expelled from the body, while UN forces should be sent to Ukraine to coerce Russia to peace.
"Russia, with its nuclear threats to a non-nuclear state, has completely destroyed the international nuclear security system, which was outlined by the Treaty on the Non-Proliferation of Nuclear Weapons (NPT). Since the Budapest Memorandum is part of the NPT, the aggression against Ukraine in 2014 should have been considered precisely an attack on international nuclear security," the expert said.
"But then they decided not to escalate. They don't want to escalate even now, although the Budapest Memorandum clearly requires members of the UN Security Council to provide assistance to Ukraine in the event of nuclear aggression or threat of nuclear aggression. Russia should have been expelled from the Security Council, and the UN should have decided to run a peace enforcement operation against Russia," the Ukrainian security pundit believes.
"The use of nuclear weapons against a non-nuclear power will force non-nuclear countries to produce their own nuclear arms. Technologically, there is nothing complicated in this. In a world where all countries possess nuclear weapons, it will be impossible to refrain from using it. If Russia is allowed to even issue nuclear threats, this will be the end of the nuclear taboo," summed up Danylyuk.
As reported earlier, a British MP, former Minister of Finance and Personnel of Northern Ireland Sammy Wilson said that the Russian Federation should be stripped of the veto right and excluded from the United Nations.