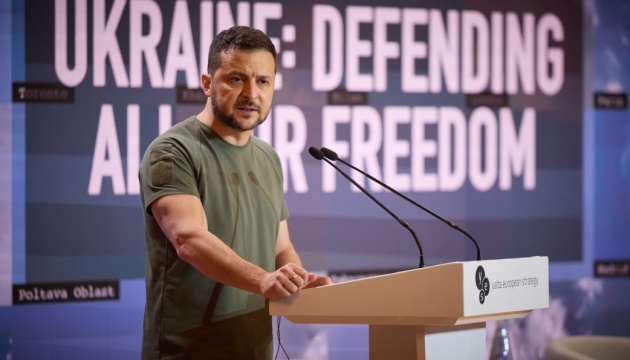 Zelensky at UNSC: Russia has no right to possess nuclear weapons
President Volodymyr Zelensky of Ukraine, who addressed the UN Security Council on Tuesday, said Russia cannot have nuclear weapons, as it doesn't ensure security for the whole world.
The Ukrainian leader spoke at the meeting, dedicated to the sham referenda being held in the occupied areas of Ukraine, Ukrinform's own correspondent reports.
"The threats of using nuclear weapons have become a constant narrative of Russian officials and propagandists. This proves that Russia has no right to possess nuclear weapons as it is unable to guarantee the safety of the world even against the threats of using nuclear weapons," the president of Ukraine noted.
In addition, he recalled, Russia ignored the IAEA's call for the immediate de-occupation of the Zaporizhia Nuclear Power Plant and the cessation of any hostile actions against any nuclear facilities in Ukraine.
Zelensky emphasized: this once again proves that Russia is deliberately keeping the world on the brink of a radiation disaster.
As reported by Ukrinform, an open meeting of the UN Security Council was held in New York on Tuesday to discuss the situation related to Russia's holding of sham "referenda" in the temporarily occupied territories of Ukraine. The meeting was initiated by the USA and Albania after Ukraine's official appeal to the head of the Security Council. The President of Ukraine addressed the meeting via video conference.