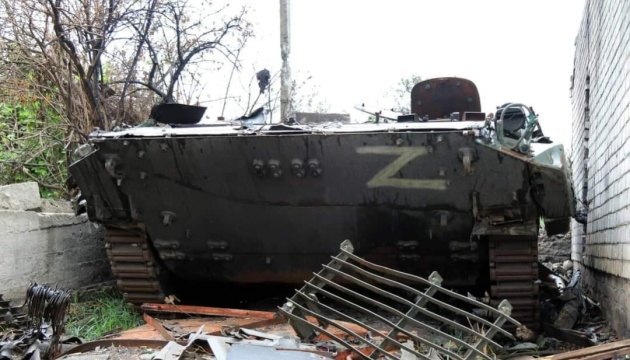 Ukraine launches 20 air, 300 artillery strikes on enemy forces in country's south
Ukraine has delivered another strike on the Kakhovka Bridge in the occupied area in southern Ukraine, eliminating over 50 Russian servicemen and some 20 units of military equipment, and downing a warplane and a helicopter.
This is reported by Ukrinform with reference to Operational Command South.
The enemy continues their efforts to hold on to the defensive lines but, under the influence of our pro-active moves, they are forced to set up new ones, which are farther away from the current front line.
"The Armed Forces of Ukraine carried out preparatory work on the identification of control points, enemy weapons and equipment clusters, and locations where the reserves are being drawn to, including by rail, from the temporarily occupied Crimea. Fire control is established over these locations," the statement reads.
Ukraine's Air Force carried out 20 strikes. An enemy Mi-8 helicopter was destroyed in the Mykolaiv district, while a Russian Su-25 attack aircraft was shot down by air defense in the Beryslav district of Kherson region.
Missile and artillery units executed 290 fire missions, including hitting a pontoon crossing in Nova Kakhovka, two weapons and equipment clusters in the Beryslav district, three clusters in Kakhovka and Kherson districts, an electronic warfare system in the Krutyi Yar district, a Tor anti-aircraft missile system in the Bashtanka district of Mykolaiv region, and a weapons and equipment convoy in Kakhovka.
Another strike on the Kakhovka Bridge has been confirmed.
Among other enemy losses confirmed over the past day are 51 servicemen, a 152 mm Msta-B howitzer, a main battle tank, and 16 other armored vehicles.
Fifteen enemy warships and boats are maneuvering in the Black Sea, including a submarine and three surface carriers of Kalibr cruise missiles. A total of 28 such missiles are ready for launch.