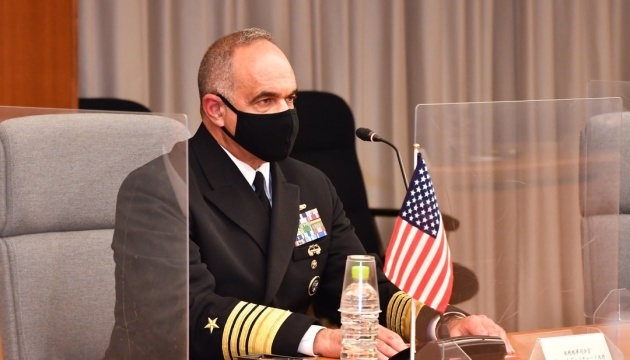 U.S. Stratcom believes direct nuclear conflict realistic
The U.S. Strategic Command does not rule out a possibility of a direct nuclear clash with Russia or China, which requires a review of approaches to warfare.
That's according to Navy Adm. Charles "Chas" A. Richard, commander of U.S. Strategic Command, who joined a panel discussion on important national security concerns, Ukrinform reports, citing the Pentagon press service.
"All of us in this room are back in the business of contemplating competition through crisis and possible direct armed conflict with a nuclear-capable peer," he said. "We have not had to do that in over 30 years. The implications of that are profound. They're profound for homeland defense. They're profound for strategic deterrence, as well as us achieving national objectives. And this is no longer theoretical."
Every Defense Department plan and capability rests on an assumption that strategic deterrence, and in particular nuclear deterrence, is holding, Richard said. If that assumption isn't met, nothing else in the department or the joint force is going to work the way that it was designed, the report reads.
"Russia and China can escalate to any level of violence that they choose in any domain with any instrument of power worldwide," he said. "We just haven't faced competitors and opponents like that in a long time."
Because of this, the department will have to change its approach to warfare, he said, adding that the slower, traditional approaches to escalation don't work anymore.
In defending the homeland, "combatant commanders will need to act quickly against an opponent in all domains: land, sea, air, space and cyberspace," he said.
The official added that the nuclear posture review that was recently delivered lays out an excellent strategy, he said. The strategy endorses modernization of the nuclear triad and its command-and-control system.
"We need to execute this very good strategy as the threat from China continues to increase," said Richard. "We don't know where that's going to end, as the threat from Russia continues to increase, along with the other challenges that we face."
As Ukrinform reported earlier, the White House has reacted to Vladimir Putin's nuclear threats, stressing that Russia will suffer heavy consequences.