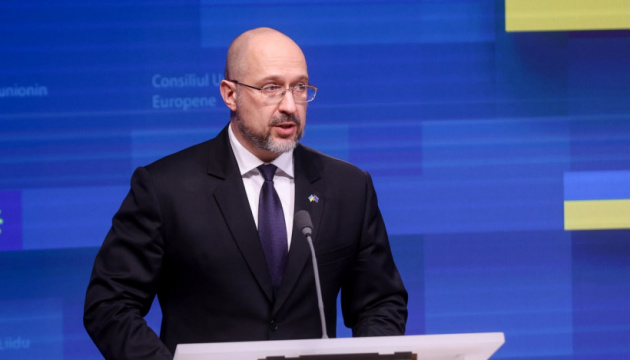 Ukraine's PM on Russian nuclear terrorism: "threat of a planetary scale"
Nuclear terrorism is not a problem of Ukraine but that of a planetary scale because until now, humanity has not faced anything like it.
This was emphasized by Prime Minister of Ukraine Denys Shmyhal, who spoke at an event on the safety of civilian nuclear facilities amid an armed conflict, which took place on the sidelines of the 77th session of the UN General Assembly, Ukrinform reports with reference to the Government Portal.
"Even in their wildest dreams, couldn't the civilized world imagine that in the 21st century someone would subject nuclear power plants to a massive attack. But today the Russian troops are holding a gun with a trigger cocked at the temple of the whole world," Shmyhal said, stressing that since February 24, all of Europe has become a victim of nuclear terrorism.
As the head of government emphasized, President Volodymyr Zelensky of Ukraine clearly demands that the Zaporizhia Nuclear Power Plant, held by Russians since early March, be demilitarized.
"Over there and in the 30-kilometer zone around it there must be no troops, while the personnel must be free to perform their professional duties," he emphasized.
According to the Prime Minister of Ukraine, the IAEA Director General, Raphael Grossi, outlined seven principles of the facility's safe operation, but none of them have been fulfilled by the Russian side.
"The Zaporizhia NPP has been transformed into a powerful military base with an arsenal of weapons deployed there. It serves as a human shield for the Russians to shell neighboring cities. They know that Ukraine will not shoot back, because we understand our responsibility. Instead, we see Russian shelling of the plant, disconnection of the NPP from the power grid, and threats to put its power units to a halt," Shmyhal noted, emphasizing that the practice applied by the Russians could cost the whole world dearly.
The head of the Ukrainian government emphasized that decisive action is needed, in particular the international mission of the UN and the European Union, whose work would result in the complete demilitarization of the ZNPP and the surrounding area, which in turn would be completely under the control of Ukraine along with the IAEA monitoring mission.
As the Prime Minister of Ukraine announced after the event, the IAEA plans to increase its mission to cover all control needs at the NPP.