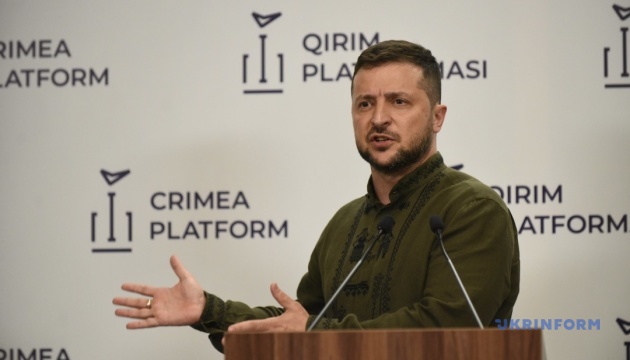 Simple school formula: Zelensky explains way to quickly end Russian war
In order for the consequences of the war not to resonate across the world, Ukraine should be provided all the weapons required to end it.
That's according to President of Ukraine, Volodymyr Zelensky, who spoke at a Kyiv press conference, an Ukrinform correspondent reports.
"My position remains unchanged: to be completely pragmatic, I'd say this – this war is expensive, the cost is high for the whole world... I believe that a shorter war is cheaper. So if everyone is pragmatic, then it (will) be cheaper to finish it earlier. To finish early is to give us weapons. Such a simple school formula," said Zelensky.
The president noted that someone in Europe is already feeling the economic consequences of this war. Third countries are not feeling them yet, but the blocking of the Black Sea coast by Russia already means that there will be hunger, so they will eventually feel them. "Someone in Asia hasn't felt it yet either, it will come a bit later, unfortunately. And the highest cost will be for Russia, and this is one hundred percent, because this cost will be historic for them," the head of state emphasized.
As reported, after a recent meeting with Turkish President Recep Tayyip Erdogan and UN Secretary General Antonio Guterres, President Volodymyr Zelensky stated that the Russian Federation cannot be trusted, therefore negotiations with Russia would only be possible after they withdraw their troops from all temporarily occupied Ukrainian territories.