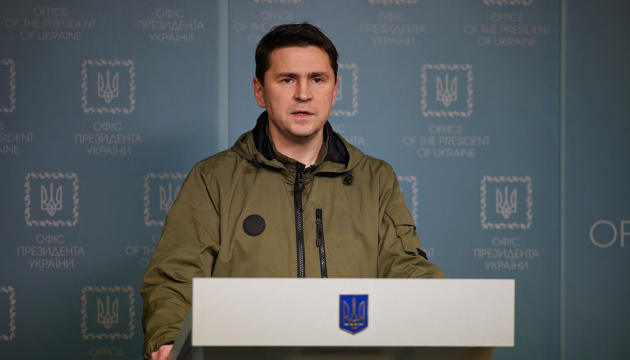 ICRC does not react to Russia's killing of Ukrainian POWs in Olenivka – President's Office
The International Committee of the Red Cross does not react to the killing of Ukrainian prisoners of war by the Russian Federation in the temporarily captured Olenivka, Donetsk region.
Mykhailo Podolyak, Adviser to the Head of the Office of the President of Ukraine, said this in an interview with the Wirtualna Polska online media outlet.
According to Podolyak, the ICRC, which acts as a mediator in all armed conflicts and must ensure compliance with international conventions, does not react to the killing of Ukrainian prisoners of war by Russia in Olenivka.
"We know how Russia treats Ukrainian prisoners: starve them, do not provide medical assistance. Unfortunately, we cannot influence this because no one will allow us to do so. But this is what international organizations exist for. They must demand access to prisoners. They must sound the alarm as Russia harasses, rapes, and kills. But these organizations remain passive, they are silent. The Red Cross is no exception," said the adviser to the head of the President's Office.
In his opinion, the Russian troops wanted to hide the traces of torture to which the Ukrainian soldiers of the Azov Regiment were subjected. By accusing Ukraine of striking the penal facility, the Russians sought to undermine trust in the Ukrainian state and show that they are not the only ones violating international conventions.
"We know that there was no rocket or artillery strike there. The explosion took place inside the building. Two days before that, prisoners of war were placed there. Out of several thousand people in the penal facility, only they were injured. It was a deliberate execution," Podolyak said.
He emphasized that terror is a military strategy of the Russian Federation. In this context, Podolyak said that Russians constantly publish videos of torture and ill-treatment of Ukrainian military personnel on social networks. In addition, they shell residential neighborhoods of Ukrainian cities.
According to Podolyak, by committing such atrocities and spreading information about them, the Russians seek to intimidate Ukrainians, in particular, the defenders of Ukraine, but the effect of such actions is the opposite: Ukrainians stand united in the fight against the enemy.
On the night of July 29, in the territory of the former penal facility No. 210 in Olenivka, the temporarily captured territory of Donetsk region, a powerful explosion occurred in the building where Ukrainian prisoners of war were held. According to the Russian side, about 50 Ukrainian defenders were killed and more than 70 were seriously injured.
ol