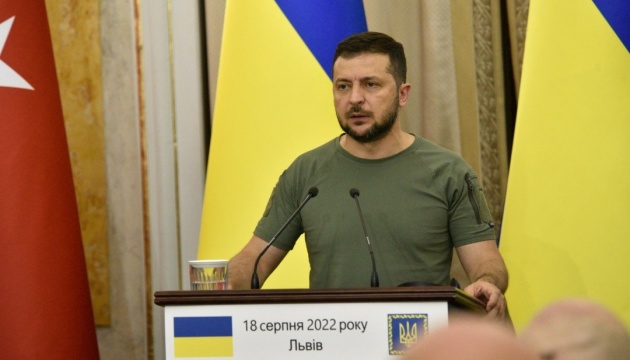 President Zelensky: Talks with Russia possible if Russian troops withdrawn from Ukraine
Ukrainian President Volodymyr Zelensky believes the Russian Federation cannot be trusted, and talks with Russia can be held only after Russian troops are withdrawn from all the temporarily occupied areas of Ukraine.
The relevant statement was made by Ukrainian President Volodymyr Zelensky at a press conference, following his meeting with President of the Republic of Türkiye Recep Tayyip Erdoğan and UN Secretary-General António Guterres, an Ukrinform correspondent reports.
"As for the future end of the war between Ukraine and Russia, I expressed my opinion to the President of Türkiye: the Russian Federation cannot be trusted. I believe there are Russian weapons in this 'window' and, thus, I am very surprised that they [Russians – Ed.] are ready for some kind of peace. Those who kill, rape, daily strike with cruise missiles our civilian cities, civil infrastructure, cannot want peace. So, first, I think they must leave our territories," Zelensky said.
A reminder that, on February 24, 2022, Russia started a full-scale invasion of Ukraine. Russian troops are shelling and destroying the key infrastructure facilities, massively opening fire on the residential areas of Ukrainian cities and villages with artillery, multiple launch rocket systems, air bombs and ballistic missiles.
mk