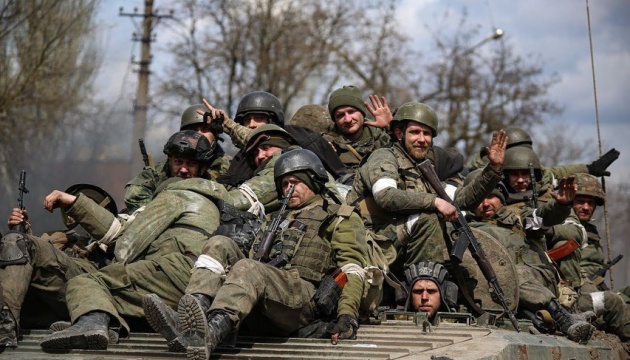 Military draft in occupied Donbas turns into slavery - Ukraine intel
The Russian Federation treats residents of the occupied Donbas as inferior people. Mobilization in the puppet "republics" has turned into slavery as men who are being deployed to the front lines are literally being sent for slaughter.
That's according to MoD spokesperson Andrii Yusov, the Ukrainian defense intelligence reported on Telegram, as seen by Ukrinform.
"We clearly see the attitude of both the Russians and the Russian Federation towards the residents of the occupied areas in Donetsk and Luhansk regions as to inferior people. While concealed mobilization is continuing in Russia, where they try to motivate someone with money, stimulate people with some illusory payments or campaign with some ideological mottos, through propaganda channels, everything is quite simple in the occupied Donbas. There is no agitation there as people are simply snatched from streets. There are reports that, for example, occupation authorities recently met with local businesses in Luhansk, where the latter were told that another 8,000 men under the age of 60 will soon need to be drafted," the report says.
"Of course, these are colossal numbers," Yusov said.
According to the spokesman, this is done in order to replenish Russian military losses and restore the combat capability of their units. First of all, this is about the so-called 2nd Army Corps.
Yusov noted that from the very beginning, residents of the occupied Donbas - even holders of Russian passports - were exploited as cannon fodder in combat reconnaissance missions. Badly trained and with poor gear, they would be thrown into the most difficult areas of the front. Instead, the Russians were treated in a completely different way.
According to a Ukrainian intelligence spox, there is no possibility of any public opinion to be voiced or public opposition to be active in the occupied Donbas. There's even less of it than in the Russian Federation itself.
As noted, forcible military conscription in its worst and most heinous form forces some locals to put up "silent resistance." Enterprises literally hide qualified employees otherwise the production cycle would stop. Mothers hide their children and husbands, realizing that certain death awaits them in the war against Ukraine. Nevertheless, Putin's punitive occupation machine is strong, so local men still get detained from the streets, sometimes pulled from their cars.
Yusov also reported that the pace of Russia's mobilization campaign on their own territory, as well as in the occupied Crimea, remains unsatisfactory. The only place where the Russians are able to fairly quickly draft men without any regard for or fear of public opinion, remains the occupied Donbas.
"There are no civil rights and freedoms there, no laws are enforced there. Therefore, the most brutal mobilization campaign is taking place there. It's not even a military draft, it's just slavery. People are literally sent for slaughter. This is genocide," the press service quotes Yusov as saying.
As reported by Ukrinform, concealed measures of the so-called "industrial mobilization" of Russia's defense sector are ongoing. In particular, at Rostec, since early August, a vacation ban has been introduced for the entire management team and a large part of the workers. In some companies that are part of Rostec, "indefinite leave postponement" has been applied to 100% of employees.
Also, the Military-Industrial Commission of the Russian Federation (led by Vladimir Putin personally) is preparing amendments to the state defense order program for 2022, providing for an increase in costs by RUB 600-700 billion. The changes are to be approved in September. The purpose of the concealed "industrial mobilization" is to provide for continued hostilities on the territory of Ukraine. Similar measures are expected to be introduced at other defense enterprises across Russia.