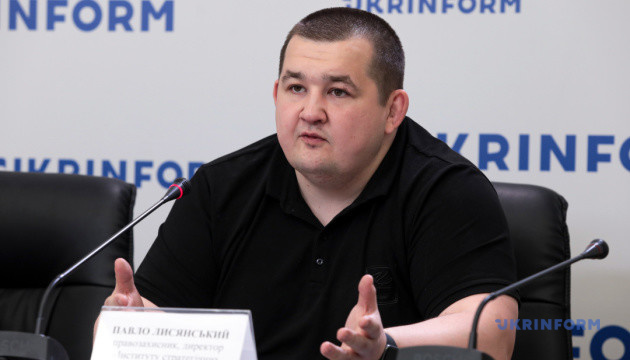 Quarter of 100,000 Donbas men forcibly drafted by Russia to fight Ukraine Army already killed
The Russians forcibly mobilized more than 100,000 men from the occupied territories of Donetsk and Luhansk regions, of which 23,000 had been killed by late April.
That's according to Pavlo Lysianskyi, founder of the Eastern Human Rights Group NGO and chief of the Institute for Strategic Research and Security, who spoke at the Ukrinform press center.
"According to our data, there were more than 100,000 cases of forcible mobilization (targeting residents of the occupied Donbas)... By the end of April, 23,000 of those forcibly mobilized had died. These are terrifying numbers. And to this day, such forcible mobilization continues, again and again, someone is drafted every day. If we count how many people they grab per hour, it's also a scary number," Lysianskyi noted, presenting an analytical report on the said topic.
He recalled that as early as 2021, under the control of military supervisors from Russia, the military forces in the occupied Donbas ran eight mobilization campaigns targeting reservists. In fact, it was all about training before a large-scale invasion of Ukraine.
In order to maintain the numbers of the Russian occupation forces, a forcible mobilization campaign was launched as early as August 2021. "There are facts that the Russian Federation began to prepare for a large-scale aggression towards Ukraine back in 2021... They would force workers into buses as early as August 2021 and take them away so that no one knows anything about them. This was back in 2021. And this is a very important fact for the international criminal court," added Lysianskyi.
Later, the rights defender notes, thousands of Ukrainian citizens living in the occupied Donbas were sent to the front line of the Russian war in Ukraine as human shields. They were also physically threatened in case any of them refused.
"Forcible mobilization is a crime against humanity because people are forced to go there and commit crimes. Of course, there are those who dug trenches, and there are those who fired shots, and we do not say they aren't guilty. But the crime starts when they are herded into rail cars and sent to war," the expert emphasized.