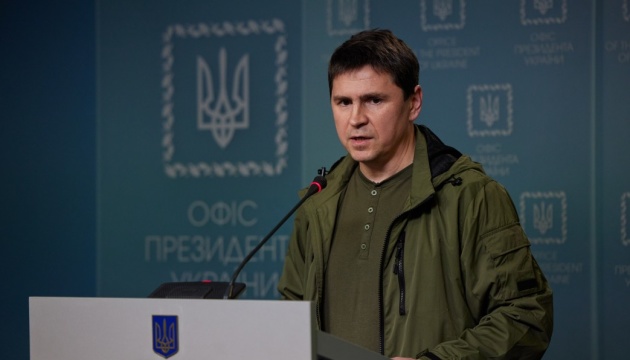 Russian intelligence could stage blasts in Crimea, Russia, or Belarus – Presidential Office chief's advisor
A number of explosions on the territory of Russia, in occupied Donetsk, and at the Zyabrivka airfield in Belarus may be the result of provocations staged by the Russian special services, which will pursue such actions to create opportunities for announcing forcible mobilization for war with Ukraine.
This was stated by the adviser to the head of the President's Office of Ukraine, Mykhailo Podolyak, who spoke in an interview with Channel 24, Ukrinform reports.
"I'd like us to be aware that the war is hard for our country today and it will continue to be so for some time. Why? All these incidents: a brewery in Donetsk, a military unit in Russia, warehouses in Yeysk, Zyabrivka airfield in Belarus, from where planes constantly took off to bomb our territory… All of them also have their roots in the Russian special services, who do this in order to arouse their population to say: 'Stand up, great country, stand up for war.' They seek to try to mobilize public mood in a certain way because concealed mobilization is going on, but there are not many who are willing to fight," said Podolyak.
In his opinion, in this way the Russian Federation wants to influence its population and create grounds for mobilization. "To this end, they create all these conflicts – many in Belarus and also in the Russian territory," he added.
The advisor to the head of the President's Office recalled that in order to justify the unleashing of the Second Chechen War, the Russian special services blew up a number of residential buildings on Russian territory, which resulted in multiple civilian casualties. "They (the Russians - ed.) want to do the same today. Therefore, we have to understand it, work this situation out, be ready for the fact that there will be many such provocations," explained Podolyak.
At the same time, he expressed the opinion that the events similar to those that took place at the airfield in Novofedorivka in temporarily occupied Crimea, will affect Russia's mobilization plans as they sow panic among ordinary Russians.
As reported, on August 9, explosions were recorded at the Novofedorivka military airfield near the city of Saky in Crimea, the Ukrainian peninsula Russia illegitimately annexed in 2014.
The Ministry of Defense of the Russian Federation claimed that the explosions were caused by the "detonation of aviation munitions."
The Ministry of Defense of Ukraine said it was "unable to establish the cause of the fire."
Russian warplanes used to take off from the Novofedorivka airfield on a daily basis. They constantly patrolled the airspace in the region, but opted not to cross into the zone controlled by Ukrainian air defenses.