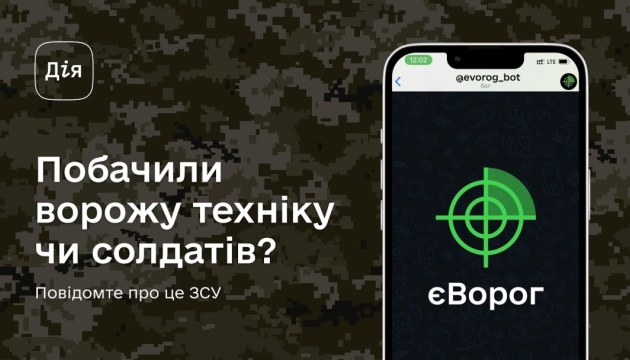 Enemy-spotting chatbot in Ukraine boasts over 344,000 reports
More than 344,000 Ukrainians have already used the eVorog (eEnemy) chatbot designed by the Ukrainian authorities to help the army destroy Russian military equipment and manpower using tips from the ground.
That's according to the Ministry of Digital Transformation, Ukrinform reports.
"This means that the more people inform the Armed Forces of Ukraine about invaders and enemy equipment, the faster our defenders will liberate Ukraine," the Ministry said.
Ukrainians are encouraged to pass the word about the @evorog_bot chatbot through Telegram or across social media.
"The main thing is to immediately report through the chatbot about the movement of the occupation forces and any enemy equipment, wherever you see it. Also, please follow civic reconnaissance safety rules," the statement noted.
As reported by Ukrinform, referring to a Deputy Prime Minister, Minister for Digital Transformation Mykhailo Fedorov, in July alone, the Ukrainians filed through the e-Vorog chatbot over 2,000 tips on possible enemy collaborators. Each report undergoes thorough verification before being forwarded to the Security Service of Ukraine (SBU), the minister said.