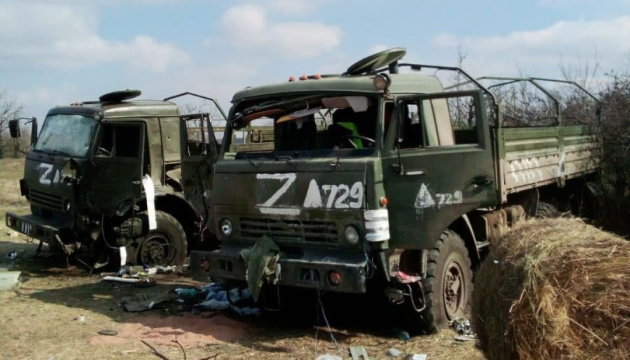 Ukraine Army destroys four Russian S-300 launchers, three ammo depots in country's south
On August 4, Ukrainian warplanes attacked two arms and equipment hubs set up by the Russian troops in the Kherson and Kakhovka districts.
At the same time, the occupiers made assault attempts within Kherson region, which saw no success, Operational Command South reported, as seen by Ukrinform.
The Ukrainian military destroyed a Russian stronghold in the temporarily occupied part of Mykolaiv region in a helicopter strike.
Meanwhile, the missile and artillery units of the Ukrainian Armed Forces attacked the Russian air defense network and logistics points, including ammunition depots, in Kherson region – in the City of Kherson, as well as in Prydniprovsk and Tokarivka.
The command confirmed that the Russian occupying forces on the southern front lost 39 servicemen, four S-300 anti-aircraft missile systems, an Imbir radar station, a Voloshka 82-caliber automatic mortar, as well as nine trucks and armored combat vehicles.
The Armed Forces also destroyed three ammunition depots in Prydniprovsk, Kherson, and Tokarivka.
The Command said that the Russians were constrained by the Ukrainian troops without the possibility of advancing. At the same time, the occupiers intensified their artillery and air strikes. Russian warplanes 16 times attacked Ukraine's positions along the contact line and struck recently liberated settlements. No casualties were reported.
The Command says that the Russians continue to wage hostilities along the occupied defense line. No changes in composition or position were noted.
Russia's 152mm barrel artillery also shelled Ivanivka. As a result of the attack, a person was killed, while the extent of the destruction is still being verified.
Meanwhile, two warships and a submarine, carrying a total of 12 Kalibr cruise missiles, remain deployed in the Black Sea, being ready for launch. Two large landing craft have also been deployed.