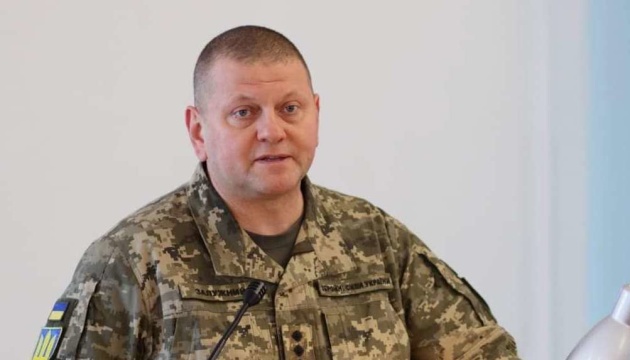 Ukraine Army not to allow western weapons get into invaders' hands – Commander-in-Chief Zaluzhnyi
Commander-in-Chief of the Ukrainian Armed Forces General Valeriy Zaluzhnyi spoke over the phone with General Mark Milley, Chairman of the U.S. Joint Chiefs of Staff, briefing the latter on the latest developments on the front lines and assuring him that the Ukrainian side realizes the responsibility to not allow western weaponry getting into the hands of terrorists.
That's according to Zaluzhnyi's post on Facebook.
"Tonight there was yet another conversation with General Mark Milley, Chairman of the Joint Chiefs of Staff. Traditionally, I informed my counterpart about the current operational situation. I have noted that the enemy continues to focus its main effort in the north of Luhansk and Donetsk regions, trying to push us out of our positions. Active hostilities are being conducted in the directions of Izium-Slovyansk, Sviatohirsk-Slovyansk, Lysychansk-Soledar, Lysychansk-Siversk, and Popasna-Soledar. We manage to repel massive enemy attacks. On the Kherson direction, units of the Defense Forces of Ukraine continue to liberate our territories," Zaluzhnyi wrote.
According to the Commander-in-Chief, General Milley noted "the effectiveness of our missile and artillery systems, particularly the M142 HIMARS."
Also, the parties discussed the pace and volume of international technical assistance deliveries.
"I emphasized that the Ukrainian side is clearly aware of the responsibility for each weapon and will not allow it to fall into the hands of terrorists," the top commander stressed.
As Ukrinform reported earlier, on July 13, Mykhailo Podolyak, the advisor to the head of the President's Office, has assured partners that all weapons supplied to Ukraine is being thoroughly accounted for and forwarded to the front lines, while claims of the opposite are part of Russian disinformation aimed at disrupting further supplies.