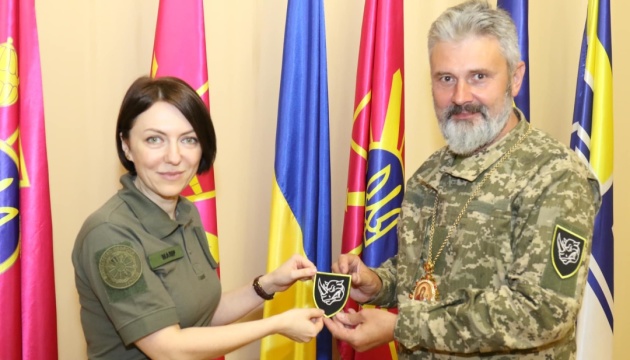 Chaplaincy service to become official part of Ukraine's Armed Forces
Deputy Minister of Defense Hanna Maliar discussed with Metropolitan Klyment of Simferopol and Crimea the role of chaplaincy in the Armed Forces and the specifics of priests' training.
The official reported the news on Facebook, as seen by Ukrinform.
"The Ministry of Defense is working on the urgent issues of introducing the Military Chaplaincy Service into the Armed Forces. On November 30, 2021, the Verkhovna Rada of Ukraine adopted the corresponding law, which entered into force on March 19, 2022. Therefore, military chaplains will soon be part of the Armed Forces of Ukraine," Maliar said following the meeting with Metropolitan Klyment, who takes spiritual care of one of the military units deployed at the front lines.
Maliar also noted that in times of war, the role of chaplaincy in the Armed Forces is seen as extremely important. Nowadays, many priests are on the front lines, side by side with the military, offering spiritual assistance to Ukraine's defenders. The work of a military chaplain is multifaceted and requires special training for applying priests.
The deputy minister noted that chaplains have a mission to perform on the front. In turn, Metropolitan Klyment said that the very presence of a chaplain in a combat unit is a positive thing.
"Soldiers can appeal not only to commanders, but also to priests. My task is to be there, not to let the soldier get weary. We are also fighting, only in the spiritual field. Along with that, there is still a need for spiritual support of the military, as well as a need for special training of chaplains for their mission in the war zone," the deputy minister quoted the metropolitan as saying.
As reported by Ukrinform, on December 17, President Volodymyr Zelensky signed Law of Ukraine "On Military Chaplaincy Service" (No. 1915-IX), adopted by the Verkhovna Rada on November 30.