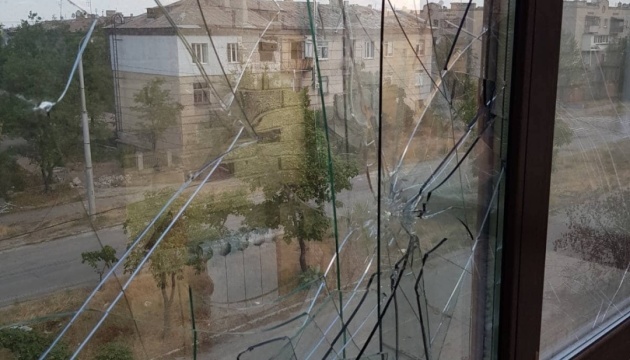 About 80% of housing in Sievierodonetsk destroyed or damaged – Haidai
In Sievierodonetsk, Luhansk region, the Russians steal the property of local residents, plunging the city into a humanitarian disaster.
"Every day, the National Police receives about fifty reports on destroyed housing in Luhansk region. IDPs find out that they have nowhere to return from their neighbors, who had been deported by the Russians, or from those, who had previously left for the occupied territory and now visited their hometowns and villages. For example, 80 percent of housing in Sievierodonetsk was destroyed or damaged," Serhiy Haidai, Head of the Luhansk Regional Military Administration, posted on Facebook.
According to him, some people try to return to take away their belongings. However, after paying a big sum to an illegal carrier, these people often find an empty apartment, even if it not damaged.
"After entering the city, the Russians first deported part of the local population, took away the keys, and then began to steal everything they saw. They drive trucks to apartment blocks. If the furniture is good, they take it away. Now it's not just about household appliances," Haidai emphasized.
The invaders appointed another "commandant", already the third one, but the property of Sivierodonetsk residents continues to disappear. The other day, an inspection from 'commandant's office' was held at a transport enterprise. And the next morning, four buses disappeared from there.
"They survived four months of shelling, but someone needed them later," Haidai noted.
The city is on brink of a humanitarian disaster as there is no centralized water supply, gas supply, and electricity supply, he added.
Since the end of February, the invaders have been shelling critical infrastructure facilities, destroying them almost completely. They will not be able to repair anything. Treatment plants and pumping stations do not work. Sewage accumulates.
"There is also stench of dead bodies – those who were buried in yards, and many remain in apartments and entrances, such as in an apartment block in a new neighborhood. Sievierodonetsk is facing a humanitarian disaster," Haidai is convinced.
On February 24, Russia launched a full-scale invasion of Ukraine. The Russian troops shell and destroy key infrastructure facilities, massively fire on residential neighborhoods of Ukrainian cities and villages using artillery, MLRS, aviation bombs, and ballistic missiles.
ol