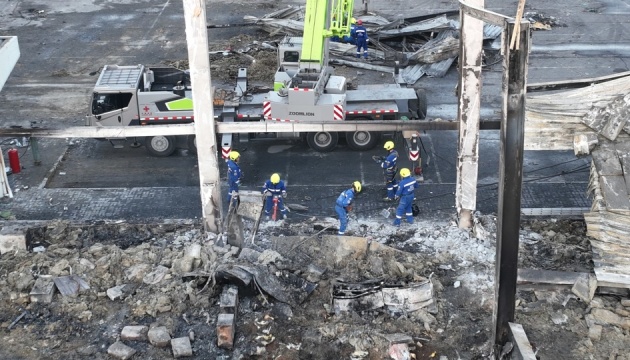 CCTV footage debunks Russian explanations of Kremenchuk mall strike - media
Surveillance footage from a Kremenchuk park, obtained and studied by journalists, refutes a claim of the Russian Defense Ministry that the Amstor shopping mall, where more than 20 were killed, allegedly exploded due to a detonation in a nearby Western ammunition depot, not from a Russian missile strike.
The video was analyzed by RFE/RL's Current Time, Ukrinform reports.
"Surveillance footage in Kremenchuk refutes a statement by Russia's Defense Ministry. Moscow claims that the shopping center, where at least 25 were killed, allegedly exploded not from a Russian missile that hit it, but from a detonation in a Western ammunition depot," the statement said.
Instead, the recordings show explosions caused by two incoming missiles: the first hits the Amstor mall, and the second hits the plant's hangar.
As Ukrinform reported, on June 27, two Russian missiles hit Kremenchuk, Poltava region.
Deputy Head of the Presidential Office Kyrylo Tymoshenko informed that more than 20 people were killed and 59 were injured as a result of the missile attack on the shopping center in Kremenchuk. The search and rescue operation continues.
Photo: State Emergency Service of Ukraine