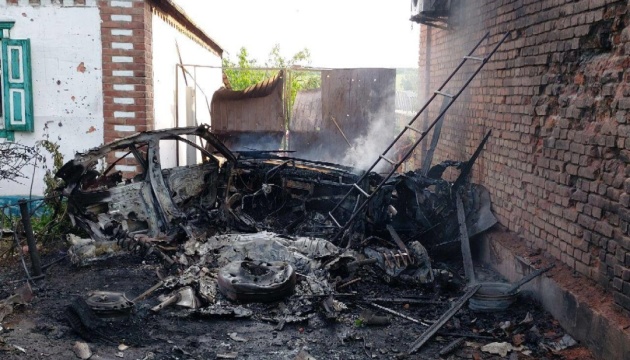 Seven people injured as Russians fire on Pechenihy in Kharkiv region
Russian invaders fired on the village of Pechenihy, Kharkiv region, injuring at least seven people, including two children.
"At night, the Russians fired on the village of Pechenihy, Chuhuiv district. A private enterprise was damaged, fire broke out. The shelling continued in the morning. Private houses were destroyed. According to preliminary data, seven civilians, including two children, were injured. The information is being updated," Head of the Kharkiv Regional Military Administration Oleh Synehubov posted on Telegram.
According to Synehubov, the enemy again struck the Industrialny district of Kharkiv city at about 23:00 on June 22, causing fire at the warehouses. According to preliminary data, no one was injured.
Moreover, the invaders again fired on the town of Derhachi at night, partially destroying an office building.
Active fighting continues on the line of contact. In Kharkiv direction, the enemy tries to prevent the Armed Forces of Ukraine from reaching the rear of the Russian group operating in Slovyansk direction.
"The enemy conducted air reconnaissance near Bayrak and Rubizhne localities. In the area of Izium, the enemy tries to create conditions for the resumption of the offensive in the directions of Izium – Barvinkove and Izium – Slovyansk," Synehubov noted.
The Ukrainian defenders are ready for any actions of the aggressor and hold their positions, he stressed.
On June 22, ten people were killed and ten more were injured in Russian shelling. On June 21, 15 people were killed, including an 8-year-old child, and at least 18 people were injured.
ol