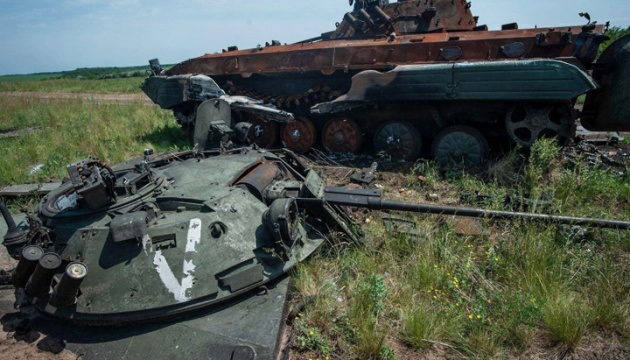 Another 28 invaders eliminated, 10 units of enemy equipment destroyed in Ukraine's south
Fighting continues in the southern part of Ukraine along the line of contact. Restricted in land maneuvering, the enemy's only option is to retreat to the defense line.
This was announced on Facebook by Operational Command South, Ukrinform reports.
"At the same time, from the air, two Mi-8 helicopter pairs made two sorties to attack our positions in Mykolaiv and Kherson regions. An air battle took place in the area of ​​Snihurivka. A Su-35 fighter launched an air-to-air missile at our Mi-8 helicopter pair, which successfully dodged the strike. Saving missiles, the enemy withdrew," the report reads.
Enemy attempts at UAV air reconnaissance continued throughout the day. In addition to the Orlan-10 shot down in the morning over Mykolaiv, another one was downed in Kherson region by an anti-aircraft missile unit. Also, a usual quadcopter was shot down with regular firearms.
In total, the enemy death toll in the area over the past day amounted to 28, while hardware losses stood at 10 units, including a Msta-B howitzer, command and staff vehicle, five armored combat vehicles and trucks.
The outcome of two air strikes in Mykolayiv and Kherson regions on the sites where enemy manpower and equipment were amassed is being clarified.
The enemy's naval group in the northwestern part of the Black Sea currently consists of four cruise missile ships and three landing craft. The blockade of navigation routes, psychological pressure and missile threats from the sea all remain relevant.
As Ukrinform reported, on June 13, Ukrainian defenders eliminated almost 50 Russian invaders, hit an ammunition depot, a UAV, an infantry fighting vehicle, and other equipment in the country's eastern operational zone.