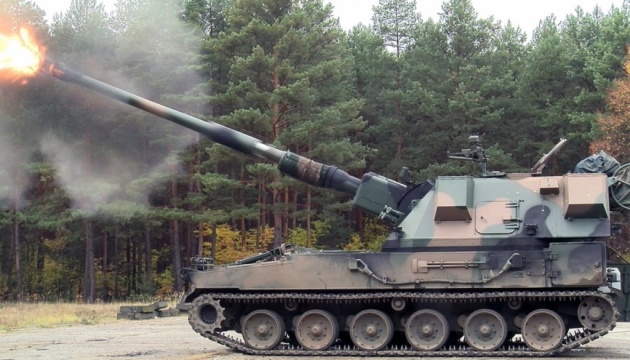 Poland's Krab howitzers already at front lines - defense chief
Krab self-propelled howitzers, supplied by Poland, have already been deployed and are being used on the front lines.
That's according to Defense Minister of Ukraine Oleksiy Reznikov, Ukrinform reports.
"I am happy to inform you that Polish self-propelled artillery units AHS Krab are ready to carry out combat missions at the front. After M777 and FH70 howitzers, CAESAR self-propelled howitzers and M109A3, these units are the 5th type of 155 mm artillery that we managed to obtain," Reznikov said.
Much has changed since the full-scale Russian invasion, said the defense minister.
After February 24, providing the army with weapons, ammo, military and special equipment has become the government's top priority.
"We had to learn very quickly, because the Ministry of Defense was not adapted to large-scale weapon imports and had no respective competences. Moreover, the state in general had no such competences to a sufficient extent because emphasis had been previously made on the export of domestic weaponry," the minister reported.
According to Reznikov, the ministry quickly established work procedures in three areas:
• systematic cooperation with partners in order to obtain material and technical assistance;
• purchase of weapons and equipment from Ukrainian manufacturers;
• import through direct contracts of the Ministry of Defence and mechanisms of special exporters.
A key strategic decision of the past period was a change in philosophy: we launched the transfer of the Armed Forces of Ukraine to heavy weaponry used by NATO member states. First of all, this applies to artillery, which plays a decisive role.
Reznikov noted that in early March, Ukraine was already well aware that "during intensive war with russia our resources were depleting and our existing reserves were incomparable to those of the enemy. Relying solely on Soviet weapons was definitely a losing strategy."
Therefore, by turning to partners for help, Ukraine initiated the supply of 155 mm artillery units and other heavy weapons.
"To date, the Ministry of Defense of Ukraine has ensured the supply of 150 artillery platforms of 155 mm caliber to the Armed Forces of Ukraine. The stockpiles of ammunition of this caliber are already 10% larger than the stockpiles of Soviet-type large-caliber shells that existed before 24 February 2022. Moreover, these new shells are more effective than their Soviet equivalents, and hence their consumption is lower," the report reads.
At the same time, more than 50 other large-caliber cannons were supplied to the Armed Forces of Ukraine. This includes projectiles for them, which constitute over 75% of the amount that existed at the beginning of the full-scale russian invasion.
Dozens of Soviet-type MLRS units and tens of thousands of shells, hundreds of mortars and hundreds of thousands of projectiles for them have strengthened our defence capabilities during this period.
The Ministry of Defence is competing with the russian army for leadership in the supply of tanks and other Soviet-type armored vehicles. We`re talking hundreds of units.
On a separate note, I would like to single out the dedication and professional work of Ukroboronprom State Concern specialists, who restored or repaired hundreds of military and special equipment units for our soldiers, including captured equipment.
We received around 250 armored vehicles of Western models (M113 TM, M113 YPR-765, Bushmaster, Mastiff, Husky, Wolfhound etc.) from our partners. This line of work continues.
And this is not to mention the MANPADS (Stinger, Starstreak, Mistral, Piorun, Grom etc.), ATGMs (NLAW, Javelin, Milan etc.) and grenade launchers (Panzerfaust, Carl Gustaf, AT4, RGW-90 HH / MATADOR etc.). As you may well know, there are thousands of them.
This is not even close to a complete list. It is too early to talk about certain other modern weapon systems. We will talk of them later. But the enemy will feel their effect on their own skin right now.
In addition, the Ministry of Defense handed over hundreds of drones through various mechanisms, including several dozen combat drones. We are expecting some serious UAVs in the upcoming aid packages.
Our coastal defence was strengthened by highly effective Harpoon complexes. Together with our Neptunes, the Harpoons are already forcing the enemy fleet to keep the distance.
As Ukrinform reported earlier, on June 4, Commander-in-Chief Valeriy zaluzhnyi said M109A3 self-propelled howitzers, supplied from Norway as part of international technical assistance, were already engaging enemy targets on Ukraine battlefields.