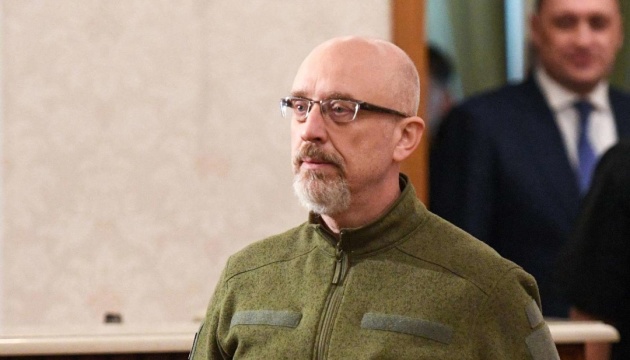 Ukraine Army's daily death toll up to 100 - Defense chief calls to speed up heavy arms supply
The situation at the front remains difficult, with Ukraine losing up to a hundred servicemen killed and up to 500 wounded every day.
That's according to Defense Minister Oleksiy Reznikov, who addressed the issue on Facebook, Ukrinform reports.
According to the minister, "Russian monster still has many means to devour human lives to satisfy his imperial ego."
That is why Ukraine emphasizes the need for heavy weapons to be supplied as quickly as possible. "We have proved that we have no fear of the Kremlin, unlike many others. But we, as a country, cannot afford to bleed out, losing our best sons and daughters," Reznikov said.
He named the following goals pursued by government:
Obtaining a significant amount of NATO-style MLRS and ammunition;
Ensuring the complete replacement of certain Soviet-style calibers (guns are worn out, shells are either no longer produced or their stocks are low) on platforms that are common in NATO countries and equipped with ammunition;
Agreeing with partners on the transition to supplies in the form of integrated units that are immediately ready to perform combat missions (organic unit), rather than in the form of separate platforms. This will significantly increase efficiency on the battlefield;
Deploying hundreds of units of heavy armored vehicles, without which an effective counterattack is impossible. It should be borne in mind that Soviet equipment is mostly obsolete and needs to be brought into combat readiness. Meanwhile, Ukraine is so far receiving from partners fairly light armored vehicles, not always armed; and
Getting combat aircraft and air defense / missile defense equipment to protect the sky.
The Minister of Defense says he is not satisfied with the pace and volumes of arms supplies. "But at the same time, I am infinitely grateful to the nations that support us. In particular, the United States, Great Britain, Poland, and our Baltic friends, as well as ll other countries that help curb Russian evil," Reznikov said.
He noted the role of Ukrainian society, volunteers who, thanks to their speed and flexibility, have successfully been covering a number of important needs. This applies to UAVs, communications, and some other components that the government is not yet fully working on.
The head of the Ministry of Defense also noted that "we see not only achievements but also mistakes. We receive all the signals, and criticism, too. We know our shortcomings and work hard to correct them."
Reznikov called the preservation of synergy of the entire military-political leadership the government's main achievement. "This is our advantage as a nation, and we will not allow it to be shaken by those who are already working with a view to ratings and political prospects. As I have already noted, all those who work toward defense for the sake of Ukraine's victory are one team. Our main team is to beat Russia, no matter how difficult it may be."
At the same time, the minister stressed, the situation at the front is difficult, "we lose up to a hundred of our soldiers killed and up to 500 wounded every day. The Kremlin continues to press with numbers, gets stalled, sees powerful resistance, and suffers massive losses. However, they are still able to advance at certain sections of the front."
As Ukrinform reported, according to the General Staff, the Armed Forces of Ukraine liquidated about 31,700 Russian servicemen from February 24 to June 9.