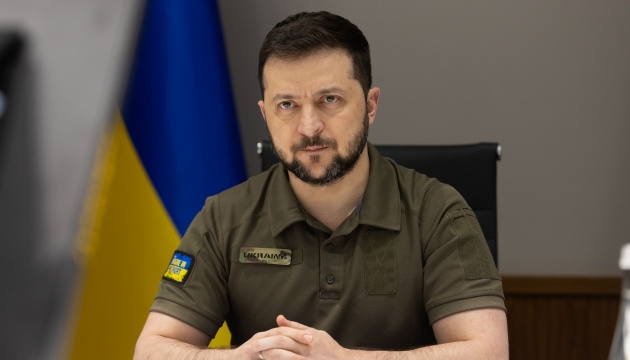 President Zelensky after Russia's artillery strike on Sviatohirsk Lavra: Russia has no place in UNESCO
Ukrainian President Volodymyr Zelensky is convinced that every church burnt down by the Russian military, every school blown up and every monument destroyed prove that Russia has no place in the United Nations Educational, Scientific and Cultural Organization (UNESCO).
The relevant statement was made by Ukrainian President Volodymyr Zelensky on Telegram after Russia's artillery strike on the Holy Mountains Lavra of the Holy Dormition (Sviatohirsk Lavra) in Donetsk Region, an Ukrinform correspondent reports.
"We expect a logical and fair response from the UN and UNESCO. It is the United Nations, and its Charter does not provide for association with terrorists. Russia's isolation must be complete, and it must be held accountable for its crimes," Zelensky wrote.
Earlier this week, Russian troops already attacked Sviatohirsk Lavra. On June 1, 2022, Russian projectiles hit the cells of monks. Four people were killed and four seriously injured. The town of Sviatohirsk has been under enemy fire since May 2022.
"The occupiers know exactly what object they are shelling. They know that there are no military targets within the territory of Sviatohirsk Lavra. They know that about 300 civilians, namely 60 children, are hiding from hostilities there. But, nevertheless, the Russian army is shelling Sviatohirsk Lavra, same as the entire Donbas. Same as any other area or any other object of Ukraine, which are reachable to them. They do not care what to turn into ruins," the President of Ukraine stressed.
According to Zelensky, on May 31, 2022, the Verkhovna Rada of Ukraine appealed to UNESCO to deprive Russia of membership in the organization. Ukrainian diplomats are consistently working on this.
"No country, except Russia, has destroyed so many monuments, cultural and social objects in Europe since World War II. Every church burnt down in Ukraine, every school blown up, every monument destroyed prove that Russia has no place in UNESCO. What can we talk about with a barbarian state, a terrorist state? About what artillery shells are better to destroy the historical heritage?" Zelensky noted.
A reminder that, on June 4, 2022, the Russian military again launched an artillery strike on Sviatohirsk Lavra in Donetsk Region. The All Saints Monastery of Sviatohirsk Lavra was destroyed in fire.
Photo: Office of the President of Ukraine
mk