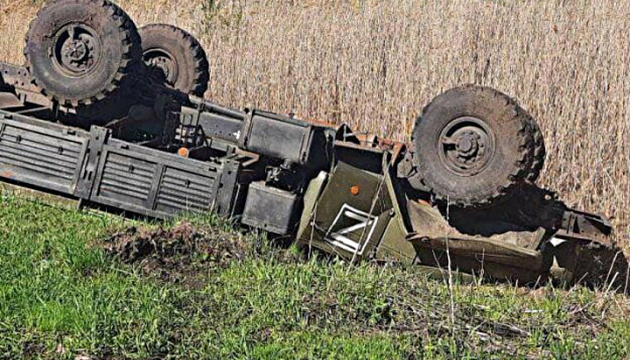 In Zaporizhia region, Ukrainian Army hits Russian ammo stocks
In Polohy, Zaporizhia region, the Ukrainian forces struck enemy ammunition depots and a truck carrying an ammo batch.
This was reported on Facebook by Zaporizhia region's Defense Forces, as seen by Ukrinform.
"The Defense Forces in Zaporizhia direction continue their defense operation, responding to the enemy action, targeting their manpower and equipment. An observation post was hit and destroyed. Two enemy ammunition depots and a truck carrying ammo were also set on fire in Polohy," the statement reads.
Enemy depots were discovered in Polohy at the premises of an oil extraction plant. Footage of the fire at the site was published by the local publication Pik.
"Day 100 of this war will be long remembered by the orcs in Polohy – that's for sure," the caption to the video says.
Also, the Ukrainian forces eliminated 20 ruscist soldiers and wounded another 14 in Zaporizhia region over the past 24 hours. An enemy tank, an armored combat vehicle, and 17 trucks were destroyed.
As Ukrinform reported earlier, Russian military death toll of the ongoing war has already reached 31,050.