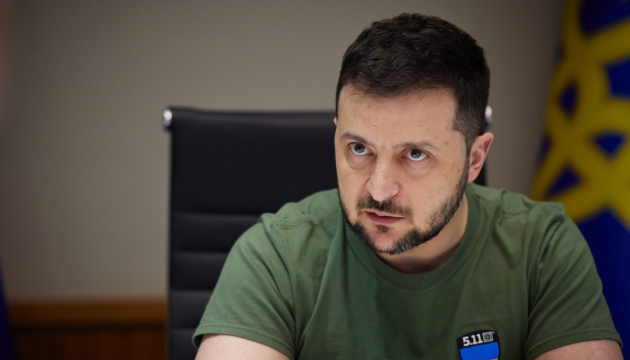 Zelensky: Front line in Ukraine exceeds 1,000km. Russia has thrown all combat-ready troops
The fighting in Ukraine continues on more than 1,000km of the front, and Russia has thrown all its combat-ready military formations into the war against the Ukrainians.
"Fighting continues on the huge territory from the city of Kharkiv in the east of our country to the city of Mykolaiv in the south. A straight line between them is 454 kilometers long. But if you look at the entire frontline, and it is, of course, not straight, this line is more than a thousand kilometers. Just imagine! Constant fighting, which stretched along the frontline for more than a thousand kilometers," Zelensky said in his address to the politicians and the people of Luxembourg.
The Ukrainians have to defend themselves against virtually the entire Russian army as all combat-ready Russian military units have been thrown into the aggression, Zelensky stressed.
Ukraine daily suffers from Russian missile strikes, the President stressed. Just yesterday, Russia used 15 different cruise missiles. Since February 24, 2,478 missiles have been used. Most of them were aimed at civil infrastructure.
"The occupiers' death toll is already more than 30,000 soldiers. That's greater than the death toll of the Soviet Union in 10 years of war in Afghanistan. Greater than Russia's death toll in two Chechen wars. But this does not stop Russia. This state is still ready to lose and kill," Zelensky added.
On February 24, Russia launched the full-scale invasion of Ukraine. Russian troops shell and destroy key infrastructure, massively fire on residential areas of Ukrainian cities, towns, and villages using artillery, MLRS, ballistic missiles, drop aviation bombs.
ol