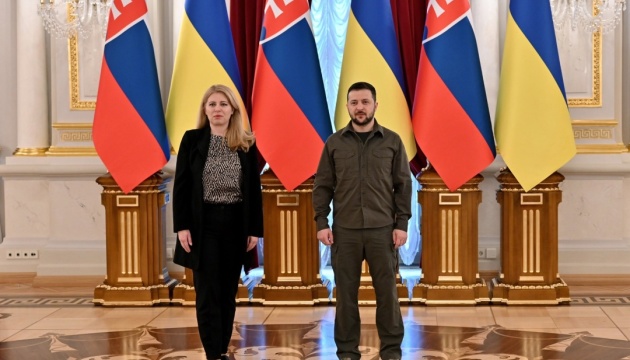 Ukraine doesn't care about Russia's plans for country's east - Zelensky
Ukraine does not care about Russia's plans to capture the east of the Ukrainian state, timed with certain dates. All occupied territories will be liberated with the emphasis on preserving the lives of as many Ukrainian defenders as possible.
This was stated by President Volodymyr Zelensky at a joint press conference with President of Slovakia Zuzana Caputova in Kyiv, an Ukrinform correspondent reports.
"You and I have heard a lot about Russia's plans tied to some dates and symbols. Sometimes this state succeeds, but in Ukraine, they have failed, although they have assured everyone that they will grab Kyiv and other cities within three days," said Zelensky.
He noted that, unfortunately, some Ukrainian cities had indeed been occupied.
"We believe that it is a temporary thing because it is not only about us believing – you hear our goals and our specific plans. We will deoccupy all our territory, which belongs to us historically and in accordance with international law," said the president.
He noted that these are Ukraine's plans, while Russia's plans are "of no interest to us."
At the same time, the head of state acknowledged that the situation in the east today is the most difficult due to the fact that the largest number of Russian equipment and military formations have been amassed there.
"As for Russia's plans for June 1, July 1, August 1, or possibly September 1, there will be other political plans – we don't care what Russia's plans are. In the east, we have a hard time because we lack (the sufficient number of) weapons," Zelensky emphasized.
He noted that Ukraine is not attached to a specific date to deoccupy territory, "we are attached to our people."
"If our certain steps, our deoccupation operations in a certain region, would involve tens of thousands of our people killed, we will wait for the appropriate weapons to save as many of our people as possible. It is they who deoccupy territories because any territories where there are no Ukrainians are not our priority, to be honest. Therefore, I believe that first of all we should think as much as possible about our people who are able – and they have proven this - to thwart all Russian plans," said the president.
As reported by the Russian media, Russian President Vladimir Putin has set a task for his military leadership to advance to the administrative borders of Luhansk region by June 1, and Donetsk region – by July 1.