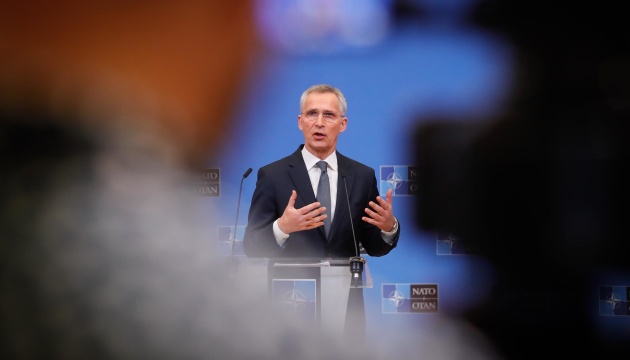 No one knows when war could end, Stoltenberg admits
Wars are unpredictable so no one can tell when and how the Russian war against Ukraine will end.
That's according to NATO Secretary-General Jens Stoltenberg, who spoke with the European media, Ukrinform reports referring to Rzeczpospolita.
Vladimir Putin made a great strategic mistake, Stoltenberg believes, as he planned to achieve his goals within a week, but it is now in the 13th week of war, and Russian troops have been driven out of Kyiv, Kharkiv, and the country's north.
Wars, however, are unpredictable, Stoltenberg added, noting that no one can say with certainty when and how this war will end.
The secretary general noted the courage and professionalism of Ukrainian soldiers, as well as political leadership, including by President Zelensky.
This, combined with "unprecedented" military support from NATO allies and partners, allowed the country to resist the Russian invasion.
He noted that since 2014, countries such as Canada, Great Britain, the U.S., and Turkey have trained "tens of thousands" of Ukrainian soldiers, and also provided the equipment that is now proving indispensable on the battlefield.
Essentially, the alliance has two tasks, Stoltenberg believes, which is to support Ukraine and to prevent escalation.
He recalled that at the onset of the invasion, aid supplied to Ukraine was mainly Soviet-era equipment, while today it's more and more of NATO equipment, which requires training.
After the first meeting of defense chiefs at NATO's Ramstein base in Germany, it is a huge undertaking to ensure that all the equipment, not only weapons, but also supplies, ammunition, etc., reaches the border with Ukraine, from where the Ukrainians can transport it to the battlefield.
In this regard, Stoltenberg appealed to allies to replenish supplies as the invasion is turning into a war of exhaustion where there are losses on both sides and there is a huge demand for ammunition, fuel, and other supplies.
NATO's second task is to prevent escalation, Stoltenberg stressed, noting that their primary responsibility is to defend all allies, therefore, the Alliance has a duty to behave in a way that does not lead to escalation. This, in part, explains why NATO offers support to Ukraine, while not being a party to the ongoing war.
NATO supports Ukraine in upholding the right to self-defense enshrined in the United Nations Charter, Stoltenberg underlined.
By significantly increasing military presence in NATO's eastern flank, to 40,000 servicemen with a direct NATO command supported by significant naval and air forces, the Alliance believes it significantly limits the space for miscalculation on the part of Russia regarding NATO's readiness to defend all allies, says Stoltenberg.