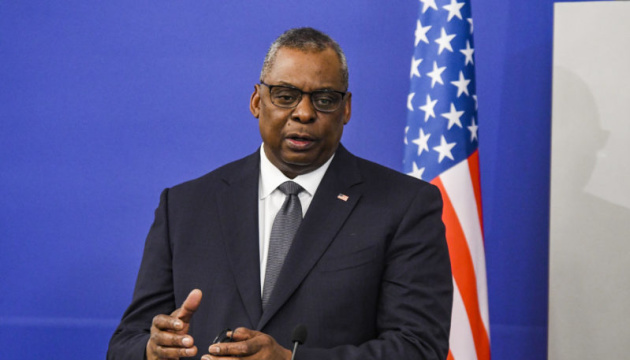 Pentagon convenes virtual meeting on Ukraine with more than 40 countries
U.S. Secretary of Defense Lloyd Austin on Monday welcomed more than 40 countries to the second Ukraine Contact Group meeting, held virtually, on May 23, almost three months to the day since the war in Ukraine began.
That's according to CNN, Ukrinform reports.
"Austin thanked the defense ministers from the other 40 nations for attending and highlighted the progress made since the first contact group meeting at Ramstein Air Base in Germany last month, spotlighting Australia, Canada and the UK for military equipment they have provided to Ukraine since that meeting," the report reads.
Since last month's contact group meeting, Australia and Canada "committed to providing M777 Howitzers, and in just four weeks, all those systems have been delivered to the Ukrainians," Austin said.
The UK also "delivered brimstone missiles and a new short-range defense system," and "many countries have pushed hard to stand up important new training missions, and we've watched these efforts make a real difference in real time," he added.
Ukrainian Defense Minister Oleksiy Reznikov, the deputy commander in chief of Ukraine's armed forces, and Ukraine's defense intelligence official joined the virtual meeting.
It is noted that some new countries, who were not in attendance at Ramstein last month, also joined the meeting: Austria, Bosnia-Herzegovina, Colombia, Ireland, and Kosovo.
Today's contact group meeting will include three sessions. Session one will begin with a battlefield update on the current fight, session two will focus on participating ministers who will announce progress made on donations to Ukraine, and session three will focus on how the parties are meeting Ukraine's priority requirements.
As reported, a meeting of heads of defense departments and chiefs of staff of more than 40 countries took place at the Ramstein air base in Germany at the end of April. According to General Mark Milley, the Chairman of the Joint Chiefs of Staff, the main task of the talks is to synchronize and coordinate military aid to Kyiv.
The United States established a control center in Stuttgart, Germany, which manages a network of more than 40 partners and allies that held a meeting at Ramstein base in Germany and provide security assistance to Ukraine.