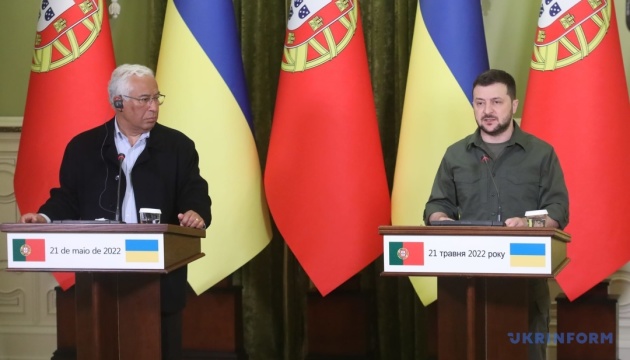 Zelensky expects decision on MLRS for Ukraine to be taken at Ramstein-2 meeting
Zelensky expects a decision on MLRS for Ukraine to be taken at Ramstein-2 meeting 
"Such meetings are already a positive result… We expect a positive decision on MLRS supply. I have no secrets. We call on all countries to supply MLRS systems, thanks to which Ukraine will be able to take the initiative and liberate its territory," Zelensky said at a joint briefing with Prime Minister of Portugal António Costa in Kyiv, an Ukrinform correspondent reports.
Zelensky addressed the representatives of countries that fear to provide Ukraine with appropriate weapons, allegedly because they could be used to attack the Russian Federation. Zelensky noted that Ukrainians were waging war on their territory. "If some European countries have got used to the fact that Donbas is the occupied territory of Russia, I want to say that it is not a very good habit. This is our territory," the President of Ukraine stressed.
Zelensky also said that the Russian Federation was blackmailing the world countries at various levels because of MLRS supply to Ukraine.
"You don't have to be afraid – you have to unite. Unification is exactly what the Russian Federation fears. It is afraid of a strong union, it fears that the European Union and the United States will act as one body. This is very important for us. We really need substantive assistance," the President stressed.
As reported, a group of more than 40 countries will gather at an online meeting on Monday, May 23, to discuss further defense support for Ukraine.
Earlier, the United States established a control center in Stuttgart, Germany, which manages a network of more than 40 partners and allies that held a meeting at Ramstein base in Germany and provide security assistance to Ukraine.
ol