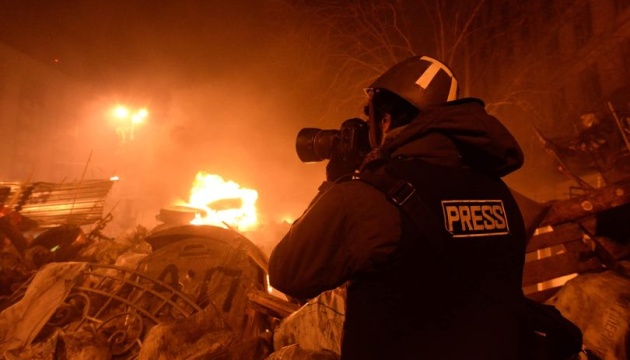 Journalists, media among Russian dictator's main targets - Minister
The Russian government fears the freedom of Ukrainians, which is why journalists and the media are one of Putin's main targets.
Minister of Culture and Information Policy Oleksandr Tkachenko addressed the issue on Facebook.
"Putin is often compared to Hitler or Stalin because the implications of his actions are difficult to underestimate even now. The cynical destruction of the Ukrainian nation and culture, deliberate strikes on churches and temples, hysterical (and historical) hatred of all things Ukrainian and even more so – the love for freedom inherent in Ukrainians. The Russian government doesn't just hate freedom – it fears it. That is why journalists and the media are one of the main targets of the Russian dictator," the minister wrote.
Thus, the new report of the OSCE Representative on Freedom of the Media Theresa Ribeiro clearly states that the Ukrainian media and Internet infrastructure are targets of the Russian armed forces, which aims to hinder people's access to truthful information and expand Russia's disinformation bubble. The Russian military fires on Ukrainian TV towers, sets up cyberattacks on Ukrainian sites, abducts, tortures, and kills journalists. The report mentions the illegitimate detention and abduction of 21 journalists and an activist.
According to Tkachenko, the increase in aggression against the representatives of the "fourth branch of power" only strengthens the understanding that the Russian propaganda machine is beginning to fall apart.
That is why during every meeting with our foreign partners I constantly emphasize the need to ban broadcasts of Russian TV channels, including RT and Sputnik. I thank Ms. Ribeiro for emphasizing the importance of blocking Kremlin propaganda in the EU," he said.
Tkachenko noted that freedom of speech and trust in the media is one of the main indicators of a democratic state.
As reported, the Russian invaders are preparing a press tour across the occupied parts of Kherson region for domestic and foreign media to show off the activities of collaborators and spread fakes about "shelling" of the areas by the Armed Forces of Ukraine.