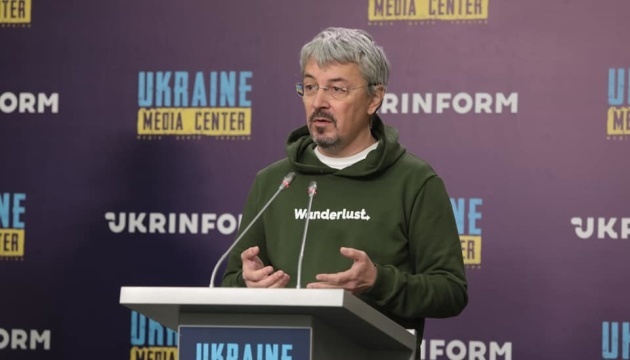 Russian invaders attempt to hold press tour to Mariupol to discredit Ukraine – Tkachenko
Russian invaders are attempting to hold a press tour for foreign journalists to the occupied city of Mariupol to discredit Ukraine's role in the war.
The relevant statement was made by Ukrainian Culture and Information Policy Minister Oleksandr Tkachenko on Facebook, an Ukrinform correspondent reports.
"Russia's fakes and disinformation have transformed into some incredible forms. This time the occupiers are trying to hold a press tour for foreign journalists to the occupied city of Mariupol. The enemy's primary goal is to discredit Ukraine's role in this war. Currently, special 'decorations' for the foreign media have already been brought in: the fragments of Ukrainian ammunition collected from the occupied areas of Donetsk Region, the crowd and actors who will be introduced as local eyewitnesses," Tkachenko wrote.
In his words, this will only promote the spread of Russia's propagandist statements and narratives. It is impossible to talk about press tours within the areas, which are controlled by the enemy, as they can stage any picture that would be favorable to Russia, Tkachenko stressed.
"For fellow journalists from abroad, I would like to emphasize that crossing the state border or the line of demarcation, staying and conducting any activity of the media in the occupied territories are regulated according to the legislation of Ukraine and international law. Therefore, the participation of foreign journalists in any press tours on the territory of Ukraine, including the areas temporarily occupied by the aggressor, must take place in accordance with the legislation of Ukraine," Tkachenko added, calling on foreign journalist not to strengthen Russia's propagandist machine.
A reminder that, according to the Ukrainian military intelligence data, Russian occupation forces are preparing to show the destroyed areas of Mariupol to foreign journalists between May 18 and May 21, 2022.
mk